SEM 708 IP HispaView with GO
SEM-708 IP HispaView. Spy camera IP hidden in black box. Ideal for the surveillance of dormitories, offices, and vehicles. Up to 700 hours of battery life. You'll be able to see the images in real time from your iPhone or Android. Very easy to set up. Impossible their interception.
Tax included
€327.23 Tax excl.
Immediate delivery

SEM 708 IP HispaView with GO

HispaView is the new system of covert surveillance perfect for home or the office. Not only can you see the images of 4 cameras at the same time, in real time, in a receiver portable but also can be seen from any part of the world from a PC or Smartphone as they are transformed into IP cameras.
Can you imagine being able to see in real time the care of your baby, pet, or access to your safety deposit box from their Smartphone or Tablet? So with the system HispaView is possible!
How does HispaView?
The operation is very simple. Just perform these simple steps:
Insert the battery in the device.
And that's it. Now you have a portable CCTV in your home or office.
And if what you want is to visualize the images in real time, from any PC, Smartphone or Tablet you just have to synchronize with the receiver SM1104 or SM1106, connect it to your PC and to download the free app. All very very easy.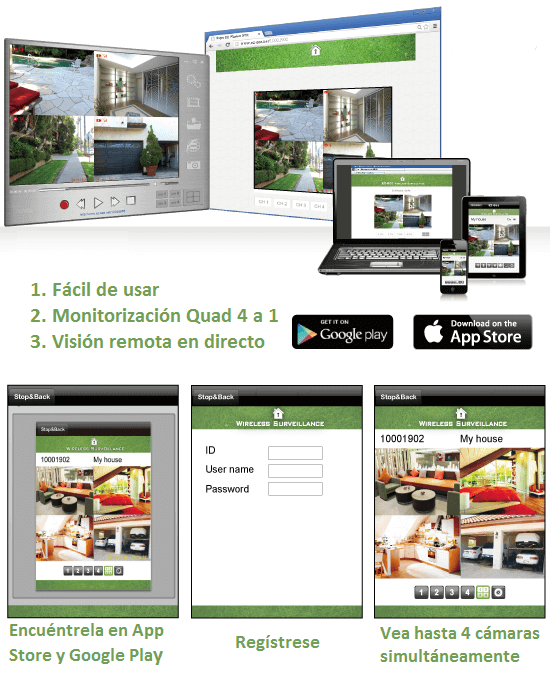 With HispaView have several modes of recording:
By motion detection
Pre-set time
Continuous Mode
Combined: By motion detection and at a preset time.
Example 1: If you want to hire the system for the surveillance of nannies we set up our cameras for the receiver HispaView start recording automatically on Monday , Wednesday and Friday from 09:00 to 13:00
Example 2: If we want to employ this system for the surveillance of the office set up HispaView to record by motion detection every day at the close of the same. From 20:00 to 08:00.
Example 3: If we want to employ this system for the permanent surveillance of a dispatch just hit the button "Rec" in the software installed on our PC and the camera will record video files continuously in our Computer
All the videos are stored in the own receiver on a MicroSD card. 32 Gb is equal to 93 hours of recording in format QUAD and 126 hours in continuous mode. Using the control software remote (for viewing distance) the files are stored in the PC where the software is installed
Specifications
Recorded in the total absence of light (includes 8 IR leds not visible)
Transmitter Digital wireless advanced that incorporates the tecnologíade frequency hopping,interference-free, as other dispositivosde 2.4 GHz
Video Encrypted. Without interceptions
Range: up to 150 meters in a straight line to the receiver (50 meters indoors). Without the limit of distance when you connect the receiver to the internet.
Video: 640 x 480 at 30FPS
4 Modes of recording: Continuous / detection / motion By sensing movement + hour programmable / Continuous + time programmable
Ideal for covert surveillance of offices, dormitories and vehicles.
Specifications
Dimensions: 120 x 120 x 30mm
Capacity-Battery (mAh): 4800 mAh
Video resolution: 640 x 480
4 Modes of recording: Continuous / detection / motion By sensing movement + hour programmable / Continuous + time programmable
Frames per Second: 1, 2, 3, 4, 5, 10, 15 and 30 FPS
Video format: AVI
Operating systems: Compatible with all operating systems
Audio recordings: Yes (optional)
Battery type: lithium Polymer high capacity rechargeable
Viewing angle: 120 ° x 96º x 76th
Motion Detection function IF
Time of auto power off, motion detection: 5, 10, 15, 20 seconds
Lock function: Yes
Remote control: Yes
Autonomy:

Battery: 29 days (700 hours) in sleep mode
Connected to 12V: Unlimited (ideal for placing in vehicles)

Records Audio and Video Together IF
Stamping of Date and Time on the Videos IF
Image Sensor: 1/3" Sony CMOS 720P
Audio recording: IF
Minimum illumination: 0 LUX
Ir: 8 leds 940 nm is not visible to the eye that is activated automatically when there is no luminosity
Built-in microphone: YES
The package contains
1x Box Spy camera hidden SEM-708
1x remote Control
1x Battery Charger
1x User Manual
Data sheet
Frames Video Maximum

30 FPS

Records Video and Audio Together

IF

Video Format

AVI

Angle of view

120 x 96º x 76th

Motion detection recording

IF

Capacity Battery

4800 mAh

Autonomy Unlimited

Yes, Connected to the electrical grid

Minimum illumination

0 Lux

Dimensions

120 x 120 x 30mm

Power

12 V (ideal for placing in vehicles)

Rechargeable Battery

IF

Built-In Microphone

IF

Date and time stamp

IF

Continuous Recording

IF

CMOS Sensor

1/3" Sony CMOS 720P

Video resolution

640 x 480

Compatibility

all operating systems

Night Vision

IF

Duration of the battery in sleep mode

29 days (700 hours)

Recording programmable

IF

Compression H. 264

IF

Image in real-time

IF

Transmitters of maximum power

Transmitter Digital wireless advanced 2.4 GHz