We understand that tranquility and security are two fundamental aspects of people's lives, and at ESPIAMOS we are committed to providing you with both. As the Spanish market leader in security, covert surveillance and counter-espionage, we offer effective, state-of-the-art solutions to help you protect what you value most.
We know that we live in a world where human integrity and dignity can be threatened. That's why we provide highly efficient tools, such as spy cameras and recorders, and GPS locators, that will allow you to keep a close eye on your possessions and loved ones.
While it is true that you cannot have absolute control over everything, we strongly believe in the ability to minimise risks and prevent undesirable situations. Our mission is to help you take fewer situations out of your hands by providing you with the control you need.
We import the most advanced technology directly, eliminating intermediaries to guarantee the best price. In addition, we maintain the utmost confidentiality in our transactions to ensure that you can protect your assets and vital information without anyone else needing to know about it.
Our History & Track Record
Espiamos has come a long way since its humble beginnings. We have grown from a small security gadget shop in 2011, to become a leader in the security and surveillance sector in Spain and Europe. Over the years, we have strived to stay at the forefront of technology, and have provided our customers with the most innovative and high quality products available.
Our Beginnings and How We've Grew
Our journey began in 2011 with a small business selling security and spying devices. Over time, and through a focus on product quality and customer satisfaction, we have experienced significant growth. Today, we are proud to be a recognised brand in the security and espionage industry.
Major Milestones in the History of Espiamos
Over the years, Espiamos has reached several milestones. In 2013, we launched our first online shop, expanding our presence nationwide. In 2015, we began distributing our products internationally, and in 2019, we opened our first training centre to train professionals in the use of our spying devices.
Future Vision & Development Projects
We look to the future with enthusiasm and optimism. We will continue to invest in research and development to offer our customers innovative and high quality products. We also look forward to expanding into new international markets and continuing to train professionals in the field of security and espionage.
Our Participation in International Trade Fairs
At Espiamos, we understand the importance of keeping up to date with the latest innovations and trends in the security industry (ESS 2017). That's why we actively participate in renowned international trade fairs and exhibitions, where we have the opportunity to showcase our products, learn from other professionals and establish new partnerships.
Attendance at Tecnosec 2022 and 2023
Our commitment to innovation and excellence led us to participate in Tecnosec 2022 and 2023. These events provided us with an invaluable platform to showcase our latest products and learn from industry leaders.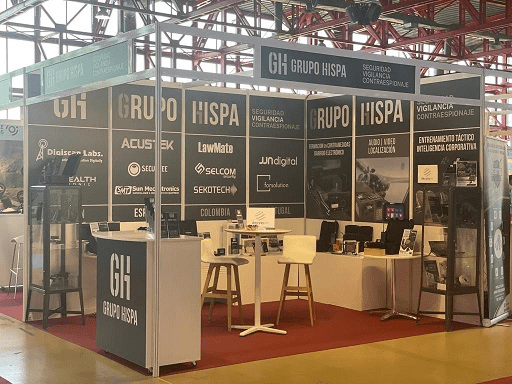 Exhibitor at FEINDEF 2023
We were honoured to be an exhibitor at FEINDEF 2023, one of the most prestigious defence and security trade fairs in Europe. This experience allowed us to demonstrate our capabilities and strengthen our relationships with customers and partners.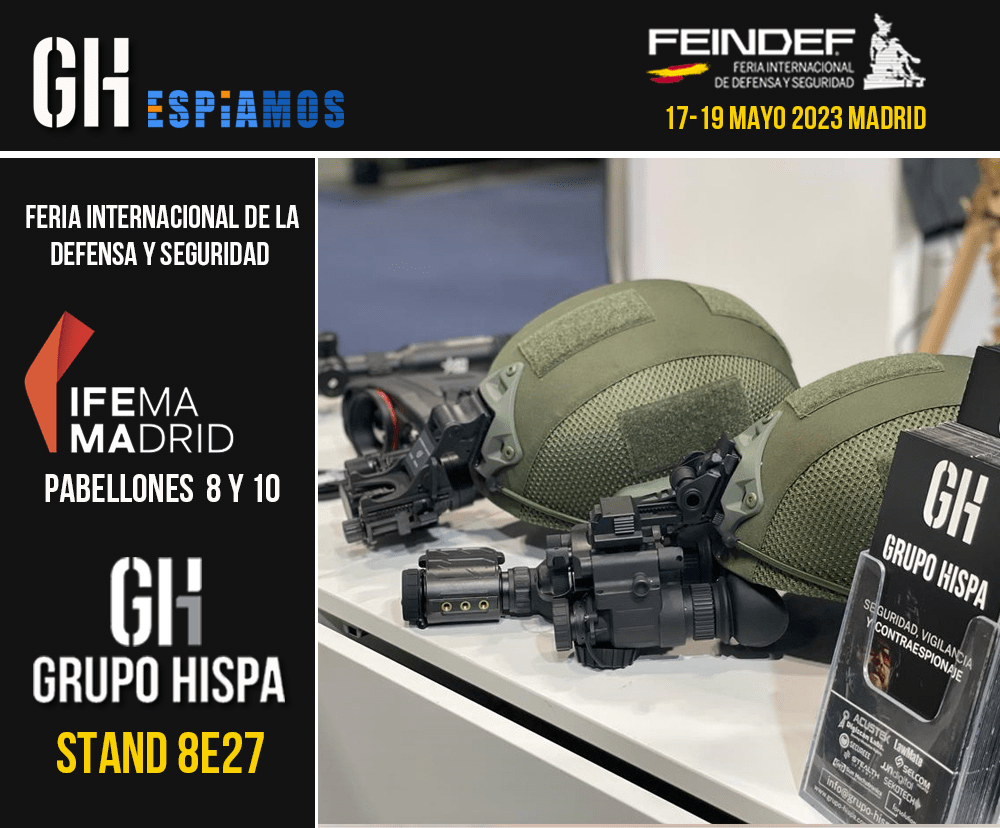 SICUR attendance since 2012
We have been attending SICUR, Spain's leading international security trade fair, since 2012. This continued participation demonstrates our commitment to continuous improvement and constant learning in a field as dynamic and ever-changing as security and surveillance.
Distributor of Exclusive Brands and Products
As one of the leaders in the spy and surveillance industry, Espiamos is proud to be a distributor of some of the most recognised brands in the market. Our portfolio includes exclusive, high quality products that make the difference in terms of performance and reliability.
We work with the Most Recognised Brands in the Market
Our commitment to excellence leads us to work with only the best brands on the market. This allows us to offer our customers products of the highest quality, backed by the prestige and reliability of world-renowned brands.
We offer Unique and High Quality Products
Every product in our catalogue has been selected for its unique quality and functionality. From hidden cameras to state-of-the-art surveillance equipment, we offer a variety of products to meet all of your spying and surveillance needs.
Constant Innovation with New & Improved Products
At Espiamos, we are constantly looking for ways to improve our product offering. We are at the forefront of surveillance and spying technology, always looking for new and better products to add to our catalogue.
We Protect Your Investment By Avoiding Damage to What Matters Most
At Espiamos, we understand that your investments go beyond the products you buy. We want to help you protect what matters most to you, whether it's your home, your business, your family or your valuables. Our products are designed to provide risk prevention solutions and protection for your most valuable assets.
Solutions for Protecting Your Valuable Assets
We offer a range of security and surveillance solutions tailored to your needs. From hidden cameras to advanced monitoring systems, our products provide you with the tools you need to protect your most valuable assets.
Products Designed to Prevent Risks
Our products are designed not only to detect suspicious activity, but also to prevent risk. With our security and surveillance solutions, you can take proactive measures to prevent damage and loss.
We prioritise your Security and the Security of Yours
For Espiamos, your safety and the safety of your loved ones is our top priority. Our goal is to provide you with the tools you need to keep your loved ones safe and protect your property.
Training with Espiamos.com
At Espiamos, we believe in the importance of training our customers in the efficient use of our surveillance and espionage products. That's why we offer a wide range of training programmes, from basic courses for beginners to advanced training for security professionals.
Customisation of Covert Surveillance Equipment
Our training programmes include a specialised module on the customisation of covert surveillance equipment. This module is designed to teach participants how to configure and customise their spying equipment to suit their specific needs.
Installation of Covert Cameras
Another vital part of our training is the hidden camera installation module. In this module, participants learn the techniques to discreetly install hidden cameras in various environments, ensuring effective and unobtrusive surveillance.
Tecult Device Detection (TSCM)
We also offer a Hidden Device Detection (TSCM) training module. This module is designed to teach participants how to identify and neutralise hidden spying devices, a crucial skill in the world of security and surveillance.
Customised Espionage Solutions
At Espiamos, we believe that every situation is unique and requires a customised solution. That's why we work with you to understand your specific needs and design tailor-made spying solutions that deliver the results you're looking for.
Creating Tailor-Made Solutions for Your Needs
Our team of experts is ready to create bespoke solutions to suit your needs. Whether you need a special hidden camera, a specific surveillance system or a tracking device, we'll work with you to develop the perfect solution.
Customised Advice for Best Use of Products
We not only provide you with the products, but we also advise you on how to use them in the best possible way. Our team is available to answer your questions and guide you through the features and capabilities of our products.
We Tailor Our Services to Deliver the Best Solutions
At Espiamos, we know that each client is unique. That's why we tailor our services to meet your individual needs and ensure you get the best possible solution.
Individualised Service
At Espiamos, we believe in the importance of treating each client as unique. That's why we offer individualised customer service that focuses on your specific needs.
Expert Advice for Every Client
Our team of experts is here to provide you with the advice you need. Whatever your questions or concerns, we're here to help you understand and get the most out of our products and services.
After-Sales Support & Troubleshooting
Our commitment to you does not end after the sale. We provide after-sales support to ensure you are completely satisfied with your products. Whether you need help with installation, have any questions about operation, or if you encounter any problems, we are here to help.
We Understand and Adapt to Every Customer's Needs
We strive to understand your unique needs and tailor our services accordingly. No matter what challenges you are facing or what solutions you are looking for, at Espiamos we are committed to providing a solution that perfectly suits your needs.
Ethics and Legality of Covert Surveillance Products
At Espiamos, we are committed to offering covert surveillance products that comply with all relevant laws and regulations. We take seriously our responsibility to ensure that our products are used in an ethical and legal manner.
We Ensure Compliance with Surveillance Laws
All our products undergo rigorous testing to ensure full compliance with current surveillance laws. This means you can rely on our products to carry out your surveillance and spying operations without violating any laws.
We Promote the Ethical and Responsible Use of Our Products
We believe in the importance of using our products ethically and responsibly. We therefore actively promote the correct use of our products and provide training and advice to ensure they are used in an ethical manner.
Commitment to Respect for Privacy and Individual Rights
We understand and respect the importance of privacy and individual rights. That is why we are committed to ensuring that our products are not used to violate the privacy or rights of individuals. This commitment is fundamental to our mission and values as a company.
ESPIAMOS Madrid