In 2017, Espiamos.com, a leading company in the security and surveillance sector, had the pleasure of presenting itself at the ESS International Security Fair. This event is one of the most prominent in its field, where the most innovative companies present their latest developments and solutions.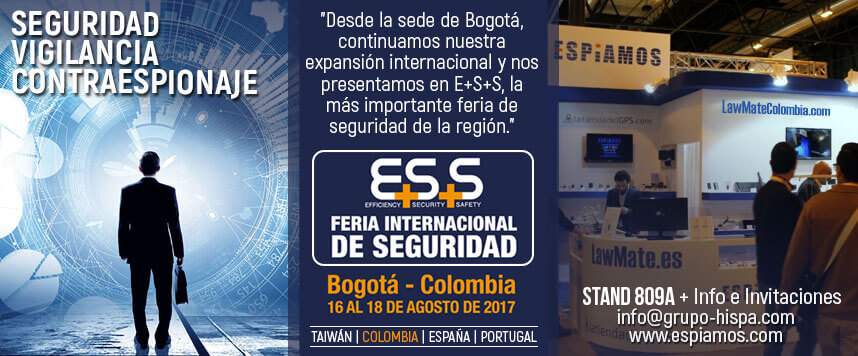 About the ESS International Security Fair
The ESS+ International Security Fair is a key event for the security industry in the Andean Region, Central America and the Caribbean. Every year, leading companies present innovations in all fields of security, with applications that expand into the fastest growing markets in the region.
The presence of Espiamos.com at the Fair
Espiamos.com was honoured to participate in the 2017 edition of the ESS show, highlighting its advanced solutions in the field of security and surveillance. Among the innovations it presented were spy cameras, GPS nano-trackers, hidden microphones, encrypted mobile phones and threat detectors.
Innovation and custom product development
Part of Espiamos.com's success lies in its commitment to innovation and custom product development. The company not only offers pre-existing security solutions, but also engages in research and development of customised products to meet the specific needs of its customers.
Expansion and growth of Espiamos.com
Espiamos.com has experienced significant growth internationally, especially in Colombia. The company has doubled its workforce in the last year and has identified Colombia as a strategic hub in the region.
Involvement with the local community
Beyond its commercial activity, Espiamos.com has demonstrated an ongoing commitment to the local community. The company has sponsored sporting events such as the Dakar Rally, providing security devices for participants.
Conclusion
Espiamos.com's participation in the ESS 2017 International Security Exhibition marked an important milestone in its trajectory. The event allowed the company to highlight its innovative solutions and reaffirm its commitment to customised product development, expansion and growth, and involvement with the local community. The company remains committed to safety and innovation, offering the best solutions to its customers.