OSINT Search for Information in Open Sources
Do you need information about a person or a company? Do you need more information about a job candidate? With our OSINT service we help you to get all the information you need.
Tax included
€330.57 Tax excl.

OSINT Search for Information in Open Sources

Do you need OSINT information about a person or company?
Many people and companies need more information about a family member or employee. The more information you have, the better the decision you make.
In such a globalized and hyperconnected world, a lot of information is freely shared on the Internet. Users become real products as they provide their information completely free of charge. It must be taken into account that only 4% of the information is indexed in Google type search engines and that the remaining 96% is found in the deep or dark internet. This information is difficult to obtain because it is not indexed and specific search engines such as TOR must be used.
With the OSINT service we help you achieve your goals, whether you are a researcher, a company or an individual.
What does OSINT mean?
OSINT stands for Open Source Intelligence, which when translated means: open source research.
It can be said that OSINT is applied to get all the information available in any public source about a company, individual or any other thing about which we want to make an investigation, and making all the accumulation of data becomes intelligence that will help us to be more effective in obtaining a result.
Why do I need the OSINT service?
?
Policemen and members of the military: because they need to contrast information to design a tactical action plan, or to speed up the investigation process of a case.
Investigators: to obtain information about a person, a company or a specific subject.
Journalists: when documenting for a report, especially if it is about uncovering a political plot, a scam or any type of criminal action.
Detectives: when they are hired to obtain information on a person or on a specific subject and need to carry out an exhaustive follow-up.
Writers: in the line of journalism, to document a fact, a topic or someone in particular.
Students: they are training in cybersecurity or in the field of private security.
Individuals: they want to find a person or improve their cyber defenses (better protect their privacy).
How does the OSINT service work?
To work with OSINT we use the intelligence cycle.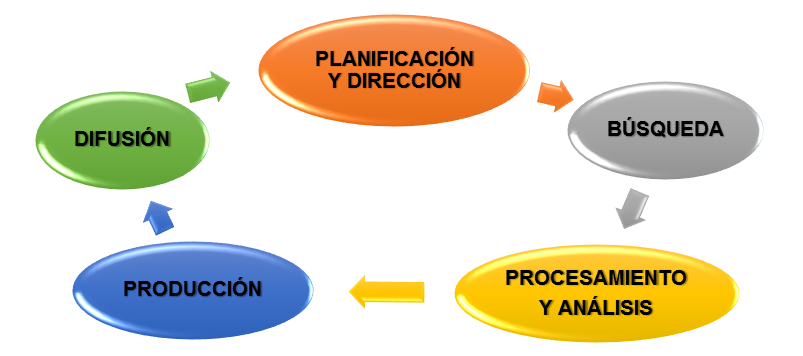 Planning and Direction: This is the essential part of the process. This is where the objectives are clearly stated.
Search: Depending on the objective, one tool or another will be used. The information is selected through open sources (documents, books, specialized press, Internet).

Processing and a

nalysis: After collecting the information, it is processed through an analysis that reveals the levels of importance of all the data obtained.
Production: The data are formatted so that they are easily interpretable and can be used in a practical way in the research.
Dissemination: The information is forwarded to the client for the best decision to be made.
Is the OSINT information provided legal
?
Of course! As quoted in the Private Security Law 5/2014 any user can hire the services of a company to provide him with third party information found exclusively in open sources or public records.