Locator gps solar for animals with self unlimited
New GPS locator for solar with self unlimited and free platform. Water resistant with certification IPx7. Ideal for the remote monitoring of horses, cows and all kinds of animals, domestic and wild.
Tax included
Immediate delivery
Locator gps solar for animals with self unlimited
| Follow-up Plan : Free Web

Main features of the gps locator for animals:
Autonomy Unlimited with their solar panels to charge fast
Resistant to water and weathering. Certification IPx7
Location platform for free
Sensor falls and disassembly
Alarm of opening
Panic button or alert SOS.
Our GPS locators for pets are durable and water resistant. With certified IPx7 , which allows you to be submerged for 30 minutes at 1 meter depth.
This gps locator for pets is designed to overcome the harshest conditions, and to send the positions of GPS location regularly and accurately via the mobile network, offering an excellent performance at the best cost.
Flexible in its configuration options, it can be programmed easily via SMS to adjust and readjust the settings, the motion detection and the sending of location reporting. Have a feature called "deep sleep", which, together with its rechargeable Lithium-Ion battery you can expect at rest, motion or vibration to wake up, and/or reporting of location of pre-programmed when it begins to move.
Connection to platform (optional)
This GPS locator for cows and horses is compatible with our tracking platform where you'll be able to see in real time where is located the animal, see the routes you have done or establish safety perimeters to notify you by SMS or email when the animal enters or leaves a certain area. Ideal for keeping track of your distance and control of permitros. You can configure the gps locator for animals to send the position to our platform every 5 seconds or every 5 minutes. All these times are variable and are adjusted to your personal needs
Click here for more information of our location platform GPS.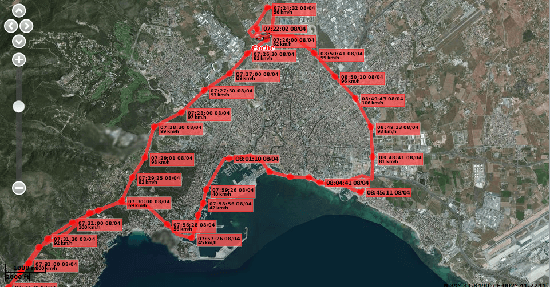 Easy configuration of the platform (optional):
The GPS locator is configured with the sending of a simple SMS. With only 5 messages will have your GPS locator configured. However, in case of need, our technical you could set up at a distance.
Security zones (optional)
The Geo-Fence or safety zones are designed to notify the phone monitor when the GPS locator enters or exits a specific zone. These security zones are displayed and configured on the server. Example: you Could set a security zone of their field plot. If the animal entered or exited the perimeter marking the GPS locator will warn you via SMS or email.
This device with internal battery and autonomy unlimited will give you a complete GPS tracking solution for your pet. The kit has been designed to offer high reliability in the results of follow-up via GPS.
It can be used both in our professional platform like in the platform free of charge from the manufacturer, without any type of cost.
You can see the position in real-time from any Smartphone, thanks to applications available on both Android and iPhone.
Incorporates alarm opening of protective cover. This means that the GPS locator will notify you when sending a SMS as soon as you do any manipulation to access the interior
It has a built-in microphone to listen to the ambient sound. The microphone has a range of up to 5 meters.
In addition to the locators of the series HV are the only GPS that have a sensor of falls which will alert you immediately by SMS or phone call if the GPS has been removed accidentally or manually.
Data sheet
Working temperature

-10 to 55°C

Certificate

Water-proof: IPx7 (immersed 30 minutes at 1 meter depth)

Frequency

L1 1575.42 MHz

Frequency band

850/900/1800/1900Mhz

Storage temperature

-40 to 85°C

Accuracy of location

Default value

GPS

U-BLOX G6010-ST, 50 channel

A-GPS

AssistNow Online and AssistNow Offline services / OMA SUPL compliant

Tracking

-161 dBm

Cold starts

-148 dBm

Hot Starts

-156 dBm

Cold start

Default value

Warm start

Default value

Hot start

1s