If you're reading this post it is probably because your spy camera does not work with a microSD card of more than 32Gb. Don't worry, we will explain how to format in FAT32 in order to solve the problem ;-)
Why does my spy camera does not work?
There can be many causes but one of them is the incompatibility of memory card with spy camera.
These devices need memory cards formatted in FAT32. The memory card new, 64Gb or more come formatted in NTFS, so the only option you have is to format in FAT32.
What are the differences between the FAT32 format and NTFS?
The differences are several, but mainly it is that the NTFS format eliminates many limitations of the size of the files in FAT32.
More information on the diferecias between FAT32 and NTFS
Is it the same format in FAT32 that ExFAT?
No, it is not the same thing. The format Ex-FAT32 improves the FAT32 format but still be incompatible with our spy camera. The only valid format is FAT32
How do you format a SD card or microSD in FAT32?
Before anything, you must keep in mind that this process will delete all of the files that you have in the memory card. If you have something important, now is the time to make a backup.
Video tutorial on how to format a card in FAT32
Steps to format in FAT32
To format in FAT32 closes all browser windows. If there are open windows, the program will not work.
Download this file and guardalo in the desktop.
Run it as administrator by clicking on the file with the right mouse button.
In the Drive select the drive letter of the memory card. Don't be confused of the lyrics!! Note that on the right side of the letter it will tell you the number of gigabytes and the format that you have. In the example image below, you can see that the SD card has a as drive letter "G", 128Gb and format NTFS
"Allocation Unit Size" select "32768"
"Volume Label" leave empty
In "Format Options", deactivate the option of Quick Format.
Press "Start"
We will get the following text "DO YOU REALLY WANT TO FORMAT DRIVE X**:? ALL DATA WILL BE LOST." We will review again the drive letter is correct and press "Ok"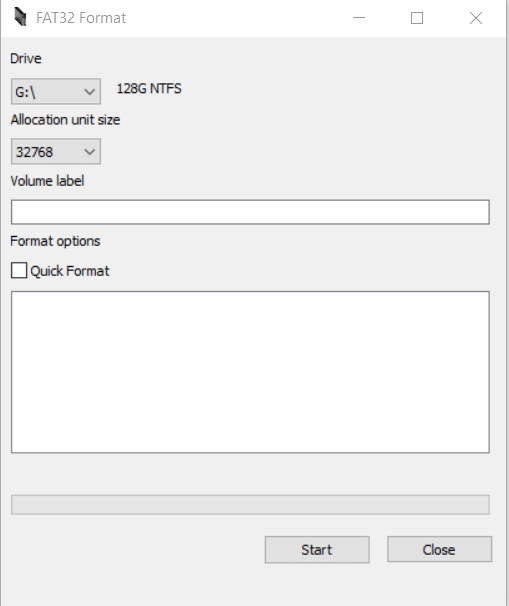 Settings FAT32
 The process is long. To format a card of 128GB it takes around 2 hours
Once the process is finished we will see this image.