GEM Card CRIPTO Acustek Credit Card Spy Recorder
Hidden spy recorder on credit cards

for professional use.
Maximum security. Password protection and recorded audio files. encrypted. AES-128 bit
Up to

500 hours of autonomy in standby mode

and 100 hours recording capacity
Up to 20 hours of recording in continuous mode.
Built-in 16GB memory
Record by sound detection / manually / date programmed
Card with custom design with your data type: Credit, Debit, Gym, Hotel, Supermarket, Gas Station, etc..
Tax included
€2,479.30 Tax excl.
Immediate delivery

GEM Card CRIPTO Acustek Credit Card Spy Recorder

GEM-CARD Mini spy voice recorder hidden in Acustek card
GEM-CARD is a mini spy voice recorder simulated in a credit card, for professional use, which incorporates the highest technology on the market. It is ideal for use in covert operations. It can be customized with the logos and images you need, whether of a bank, supermarket cake or sports club. It integrates several security measures so that your files cannot be reproduced in case of interception. State-of-the-art technology at the best price!
Main features of Acustek GEM-CARD mini spy recorder
Digital signature to guarantee evidence in court.
Security. In case of interception the files cannot be reproduced.
High quality recordings.
DSP technology that combines low power consumption with high quality recordings.
Different recording modes: continuous, by sound detection or scheduled by calendar.
Totally discreet. Customizable design.
Maximum security. All files are encrypted.
Up to 20 hours of autonomy in continuous recording mode.
Water resistant.
Low power consumption.
Very easy to use.
How to set up the Acustek GEM-CARD micro spy recorder
?
The GEM CARD voice recorder is configured using specific software that encrypts the files. Without this software, which is accessed by password, the files cannot be played back.
The configuration is very easy and intuitive. Just select the recording quality (high, low or medium) and the mode (continuous recording, sound detection, calendar).
How does the micro spy recorder work?
GEM CARD AUDIO
from Acustek
?
The GEM CARD AUDIO voice recorder is very versatile as it can be used in a multitude of scenarios.
The included receiver allows you to connect up to 8 different transmitters (not included) whether they are card type or not so you can record all conversations simultaneously and listen to them in real time. Here you can see an example configuration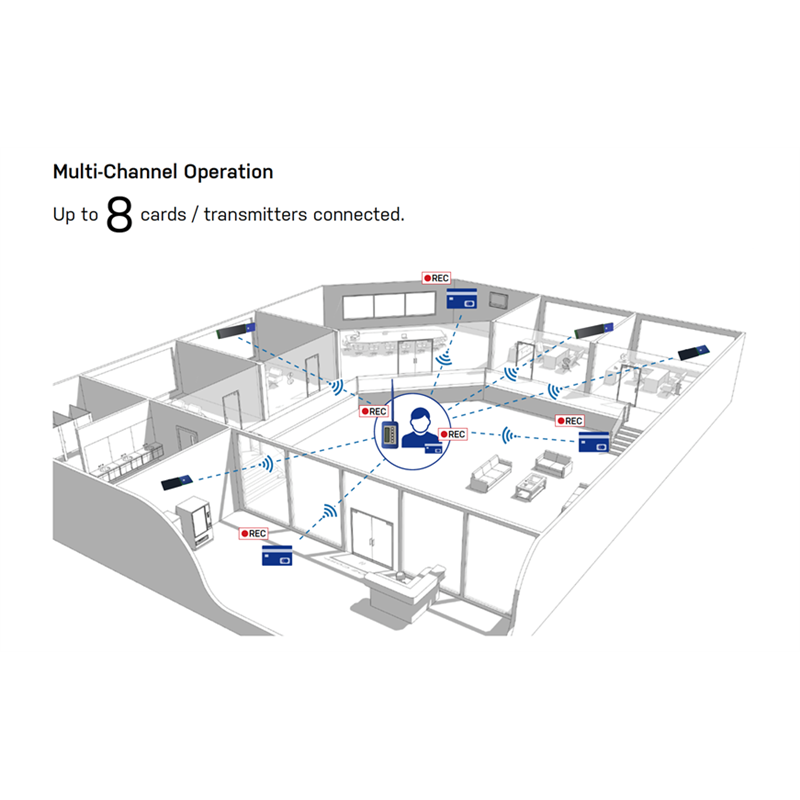 What is the difference between the Acustek GEM CARD mini-recorder and other voice recorders?
?
Most voice recorders are not suitable for use as evidence in court because they cannot guarantee provenance or tampering. The GEM CARD recorder incorporates a digital signature that fully guarantees the file by granting its validity by means of the corresponding Hash number. In addition, the Acustek GEM CARD recorder has an encryption and reproduction software that guarantees its confidentiality. No one will be able to play the recorded files without this software.
Where to buy the Acustek GEM-CARD mini voice recorder?
?
ESPIAMOS is the exclusive distributor of ACUSTEK in Spain. You can only buy this product in our store in Duque de Sesto Street in Madrid or ask for it under quotation. As exclusive distributors of the brand we offer you the best guarantee and official technical support.
Technical specifications of the Acustek GEM CARD ultra mini spy recorder.
Dimensions: Credit card with 1.5mm height.
Battery life: 10-20 hours in continuous mode (10 hours at 22KHz uncompressed or 20 hours at 8KHz ADPCM).
Autonomy: Up to 500 hours in standby mode.
Fast charge: 2 hours.
File Transfer: Using a card reader via USB.
Download speed: 12MB, USB 2.0.
Recording capacity: 100 hours at 22KHz.
Internal memory: 16Gb.
Bit: 16.
Sample Rate: 8-22kHz.
Format: 16 bit uncompressed / uLaw / 4-bit ADCPM.
Export Format: WAV file or native format with date and time stamp.
SNR: