Professional Portable 5G GPS Detector
The 5G gps detector is the latest addition of portable detectors designed mainly for TSCM professionals. With this device you can easily locate all kinds of hidden transmitters such as GPS locators, beacons, cameras, microphones... Try it! You will be surprised.
Professional Portable 5G GPS Detector
Do you want to buy a Professional 5G GPS detector?
The 5G GPS detector is designed for detection and logging of transmissions from all types of RF devices. This signal detector provides complete coverage and logging of all RF activity in the surrounding area.
Key features of the 5G GPS detector:
Detects all types of transmissions: analog / digital, audio / video.
Detection range: 0 MHz - 14GHz.
Memory function. Stores up to 10,000 events.
Separate 2.4 GHz and 5 GHz Wi-Fi detector.

Bluetooth Device Analyzer provides data on nearby Bluetooth devices.

Oled display.
Protective aluminum housing.
What devices can I locate with the professional GPS detector?
?
Transmitting cameras: UHF, VHF, GSM, 3G, 4G, 5G, WIFI, WIFI.
Analog and digital transmission cameras.
All types of GPS locators including satellite.
Cameras for examinations.
Bluetooth transmission inductor collars.
Wireless transmission microphones.
How does the GPS detector work in cars and automobiles?
Broadband detection
The 0-14 GHz broadband detector provides the widest range of coverage of all RF activity in the target area. The frequency of the detected signal (up to 6 GHz) can be viewed simultaneously and the 'Livescan' software graphically displays the detected live signal pattern to help identify the type of signal. This can be especially useful when searching for burst devices such as GPS locators.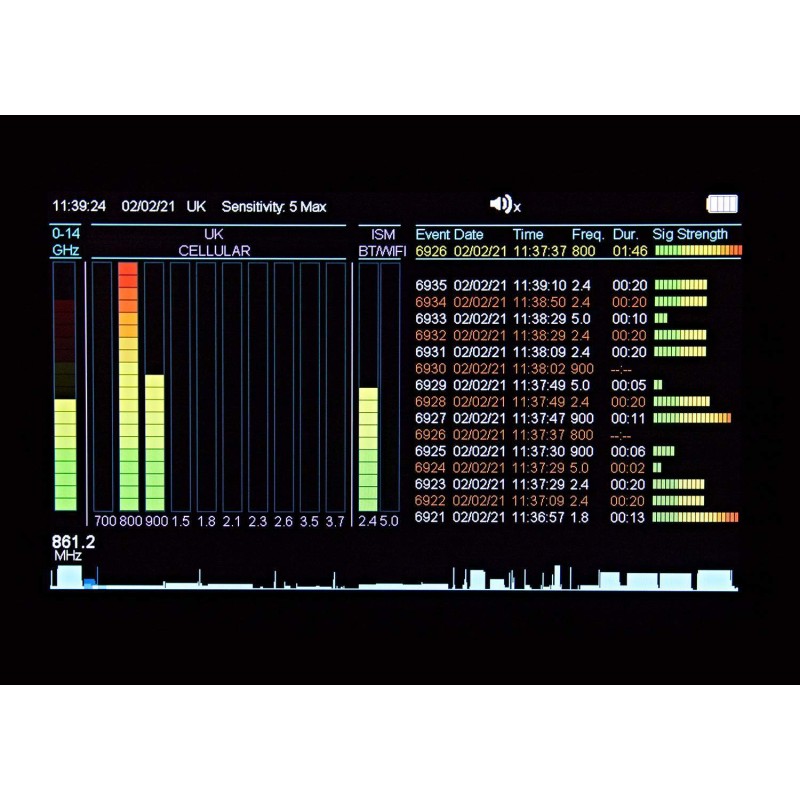 Worldwide cell band detection
The GPS signal detector has separate worldwide multi-band cellular coverage. Simply select the international region in which the device is being used and it will detect signals from all relevant local cellular bands. This means that the GPS locator detector is ready to discover the latest 5G devices worldwide. Of course, all existing 2G, 3G and 4G bands will also be covered. It can be used in any environment where mobile devices are prohibited, such as sensitive meeting rooms to check for hidden devices, unauthorized use of cell phones in offices, exam rooms, hospitals or prisons and in vehicles to locate the latest vehicle/active tracking devices. All cellular activity is logged and can be reviewed at any time, graphically or in list format.
2.4 GHz and 5 GHz Wi-Fi detection
The GPS signal tracker detector has separate 2.4 GHz and 5 GHz bands to detect the fast growing threat of Wi-Fi/Bluetooth/Video and other 'Store' devices. We offer you a 3 year warranty and best price guarantee. If the product does not convince you, you will have 14 days to return it.
Technical specifications of the GPS detector
Detects 2G/3G/4G and the latest 5G devices, as well as Wi-Fi/Bluetooth/2.4 GHz and 5 GHz devices.

Detects cell phones, smartphones, GPS locators, SMS (texts), GSM microphones, 3G/4G/5G video, Bluetooth and Wi-Fi devices, Store devices, and other devices.
Te garantizamos recibir este producto en un máximo de 48 horas si es abonado antes de las 13:00
*Los justificantes de pago no son válidos. El dinero debe estar en la cuenta de Hispa antes de las 13:00. En caso de incumplimiento, ya sea por parte del transportista o de Hispa, te regalamos una cámara espía o un localizador GPS valorado en 249€.