5G 14GHz 5G Satellite Tracking Detector
The Satellite Tracking Detector with memory function easily locates all types of wireless transmitting devices, mainly GPS locators. Detects frequencies up to 14 GHz. Very easy to use.

5G 14GHz 5G Satellite Tracking Detector
Do you want to buy the 5G Satellite Tracking Detector?
We present the 5G Satellite Tracking Detector with memory. It incorporates the latest technology on the market. It detects the latest spying devices that transmit on frequencies up to 14Ghz. Try it, you'll be surprised!
Main features of the 14GHz Satellite Tracking Detector.:
Detects all types of transmissions: analog/digital, audio/video.
Detection range: 0 MHz - 14GHz.
Signal detection up to 50 meters.
Independent 2.4 GHz and 5 GHz band detector for Wi- Fi/Bluetooth/Video and other latest generation devices.
Memory function. Stores up to 4000 events.
60-minute log graph (especially useful for detecting GPS locators).
Autonomy of up to 6 hours.
3.5" TFT screen.
Protective aluminum casing.
20-segment intensity indicator.
What devices can I detect Satellite Monitoring Detector
?
Transmitting cameras: UHF, VHF, GSM, 3G, 4G, 5G, WIFI, WIFI
Detects cell phones, smartphones, GPS locators, SMS (texts), GSM, 3G/4G/5G video, Bluetooth and Wi-Fi devices.
Analog and digital transmission cameras.
All types of GPS locators including satellite.
Cameras for examinations.
Bluetooth transmission inductive collars.
Wireless transmission microphones.
How does the frequency detector work?
When the device detects a signal, it will start vibrating or emitting acoustic or light signals. You will know exactly when you are close to the device and when you are not. And if the situation requires discretion, you can use the Professional Frequency Detector in silent or vibration mode as if it were a cell phone.
Frequency Counter Mode
In this mode you can detect all types of RF microphones as well as wireless cameras used for cheating in exams. On the OLED display you will see the exact frequency of the hidden device and the intensity. The closer you get to the device the higher the intensity. It has a very wide range from 0MHz to 14GHz.
In this mode you will be able to detect the most commercial devices such as GPS locators, GSM microphones and switched on cell phones used in Universities and competitive examinations for cheating in exams as well as earpieces and Bluetooth devices connected to induction collars.
Broadband Mode
This mode is used to detect unknown wireless devices. Its range is very wide and ranges from 0 to 14GHz. In this mode you will be able to detect all the latest generation electronic devices transmitting in 5G such as encrypted microphones and GPS locators!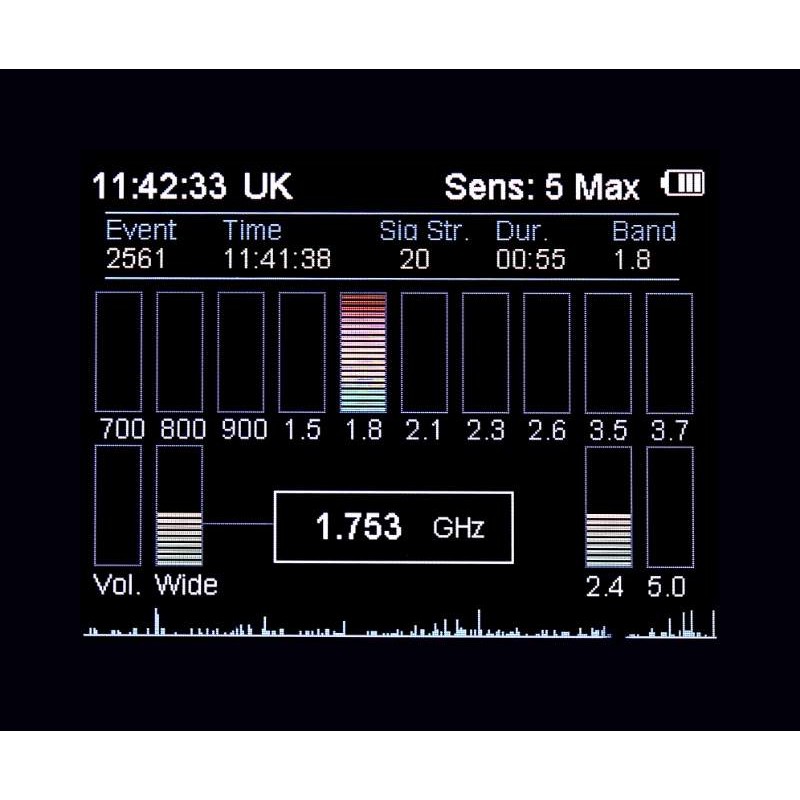 GRAPH - LOG mode
The satellite tracking detector features a 4000 event memory log that stores all detected signal data including short burst transmissions, their frequency, time of event, duration and signal strength. These events are displayed in an easy-to-read list format for the user to scroll through. Events can now be viewed simultaneously in Graph-Log mode, where up to 8 minutes of live detected signal and frequency data are recorded and plotted on a graph.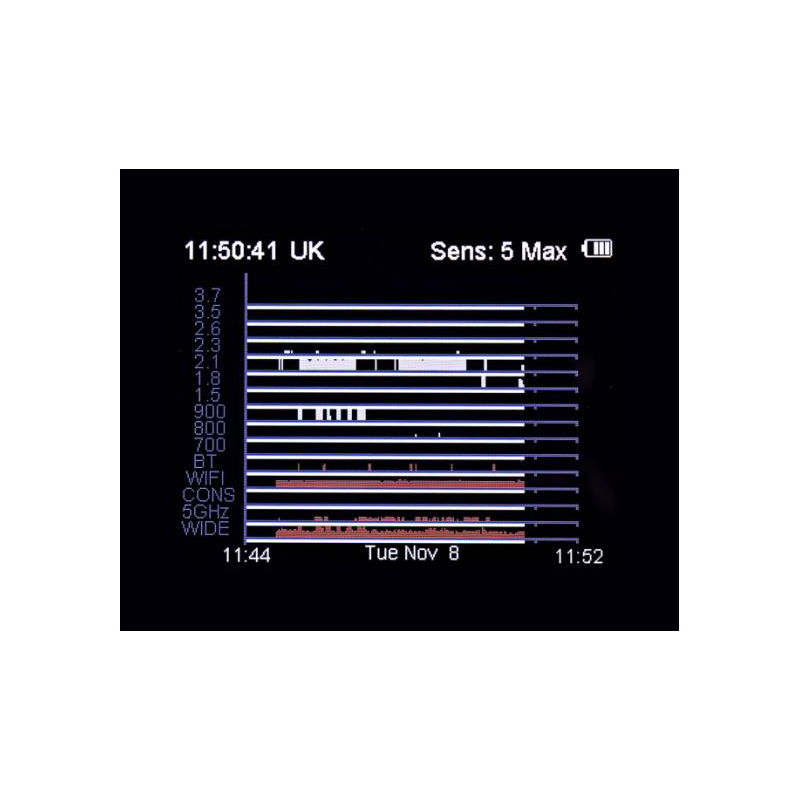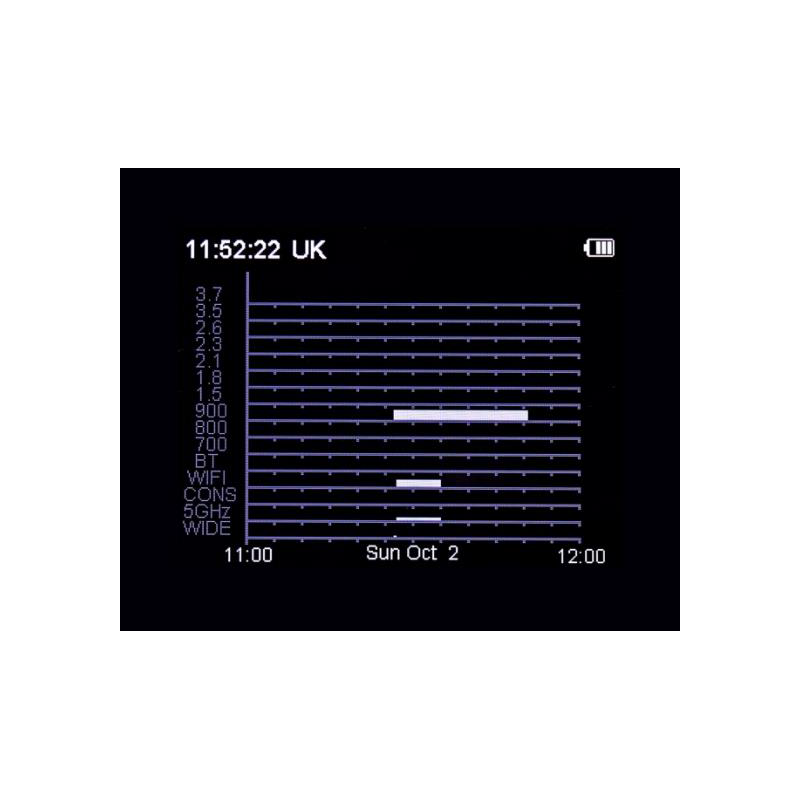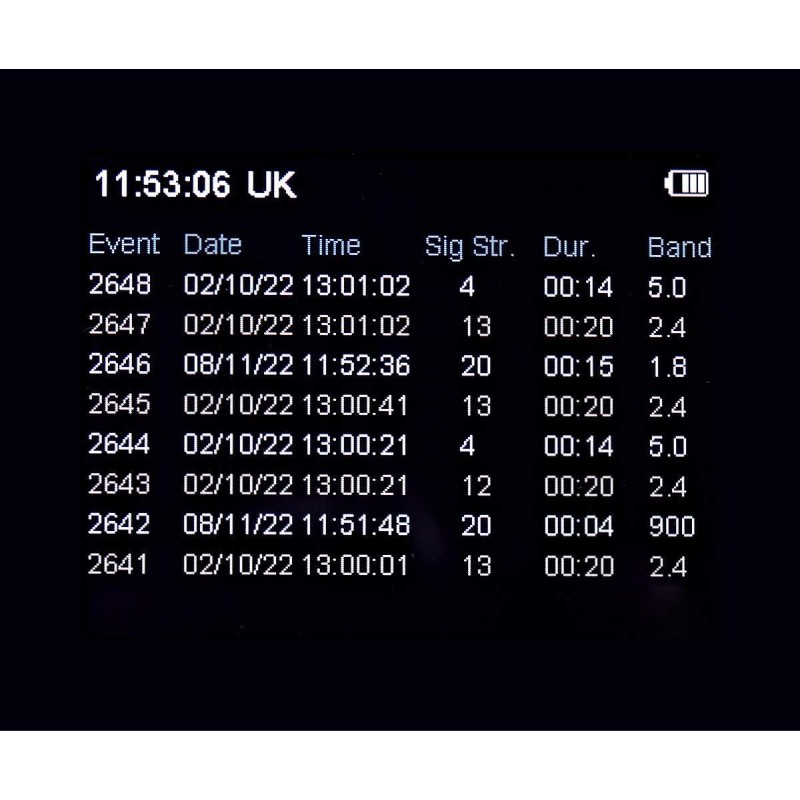 These memory functions ensure that the user does not miss any detected events and are invaluable in helping the user determine exactly what type of signal has been detected.
How does the new Satellite Tracking Detector differ from other GPS Detectors?
and other GPS Detectors?
The main difference of this device is the ability to detect the most sophisticated devices that work at high frequencies . Most of the traditional detectors reach up to 3 GHz. This means that signals such as WIFI PLUS, 5.4 GHZ would not be detected. This device locates and identifies signals up to 14GHz.
Where to buy the satellite detector for vehicles
?
You can buy this product in our store in Duque de Sesto Street in Madrid or from our website. Come and try it out. You will be amazed at what it can do! We offer you a 3 year warranty and an official technical support. If the product does not convince you, you will have 14 days to return it.
Car satellite detector technical specifications
Frequency range: 0 MHz - 14GHz
Indicators: Main display; Status indication
Memory: Stores up to 4000 records.
Working modes: SILENT, AUDIO, VIBRATION.
Detects analog and digital signals
Rechargeable battery
Autonomy: 6 hours
Recharging time: 4 hours.
LED display
Dimensions: 173mm x 103mm x 28mm
Weight: 500gr.
Package contains:
1 x GPS Satellite Detector
2 x Antennas
1 x Charging cable
1 x Professional rugged case
1 x User's manual in English and Spanish
Te garantizamos recibir este producto en un máximo de 48 horas si es abonado antes de las 13:00
*Los justificantes de pago no son válidos. El dinero debe estar en la cuenta de Hispa antes de las 13:00. En caso de incumplimiento, ya sea por parte del transportista o de Hispa, te regalamos una cámara espía o un localizador GPS valorado en 249€.