In the world of security technology, knowing the leading manufacturers in the sector can make a big difference. Today we present six manufacturers of technological products that stand out in their specific areas.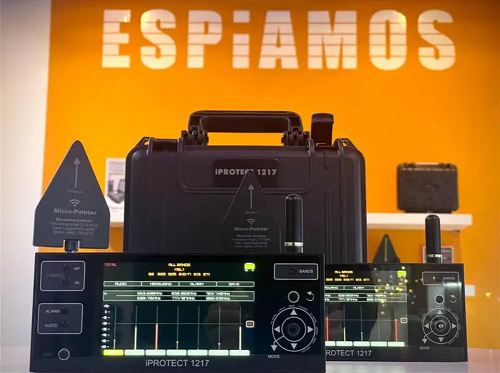 Sekotech: TSCM and NLJD experts from Lithuania
If you are interested in the field of Technical Safety Countermeasures (TSCM) and Non-Linear Joint Detectors (NLJD), Sekotech is a name you should know. This Lithuanian manufacturer has gained recognition for offering high-quality products that allow professionals to carry out effective counter-surveillance operations.
What are TSCM and NLJD?
Techniques in Countermeasures (TSCM) are sets of methods and tools designed to detect and neutralize a wide variety of electronic threats. Non-Linear Joint Detectors (NLJD) are part of these tools, and are especially effective at locating hidden electronic devices, even if they are turned off or inactive.
Sekotech Featured Products
Sekotech offers a wide range of NLJD detectors and TSCM equipment, which vary in capabilities and features. The products are designed to be easy to use, yet highly effective, making them ideal for security professionals and novices alike.
Selcom: Another Lithuanian Giant in TSCM and NLJD
Like Sekotech, Selcom also specializes in TSCM and NLJD equipment , but with its own approach and unique features. This Lithuanian company has established its reputation through an innovative range of products that meet international safety standards.
Key differences with Sekotech
Although Selcom and Sekotech may appear similar in their product offerings, they have key differences in functionalities and applications. Selcom tends to focus on more modular solutions that can be customized to the user's needs, which gives them an advantage in terms of flexibility.
Selcom's most popular products
Selcom offers various types of TSCM and NLJD equipment, each with its own specificities and advantages. This allows users to choose the most appropriate equipment for their specific needs, whether for corporate or personal use.
Sun Mechatonics: Contact Microphones from Japan
If audio data collection is your focus, contact microphones from Sun Mechatonics might be exactly what you need. This Japanese company specializes in high-sensitivity contact microphone technologies, ideal for surveillance operations and intelligence collection.
What are contact microphones?
Contact microphones are devices that capture sound through direct contact with surfaces. This makes them incredibly useful for listening through walls or even closed windows, making them an invaluable tool in the world of security.
Why choose Sun Mechatonics
Sun Mechatonics is known for its excellent quality and reliability. Their contact microphones are rugged and offer exceptional audio quality, making them the preferred choice of many professionals in the security field.
Acustek: Service to Government Institutions and FCSE in Ireland
Acustek is a manufacturer that stands out for its focus on customer service. government institutions and Security Forces and Bodies of theState (FCSE). Based in Ireland, this company specializes in highly specialized security solutions that meet the highest international standards.
Featured Products
Acustek offers a wide range of products designed specifically for government institutions and State Security Forces and Corps (FCSE). These products range from surveillance systems to countermeasure equipment, and are known for their high reliability and effectiveness.
Why choose Acustek
If you are part of a government institution or an FCSE, Acustek products may be exactly what you need. The company has invested significantly in R&D to provide equipment that not only meets but exceeds expectations in terms of performance and reliability.
Secureee: GSM Microphones from Croatia
Based in Croatia, Secureee is a leading manufacturer in the security sector. GSM microphones. This company offers a range of products that enable a wide variety of applications in the field of security and surveillance.
What are GSM microphones?
GSM microphones are devices that use the GSM network to transmit captured audio to a remote receiver. These devices are extremely useful for remote monitoring and offer the flexibility to listen from anywhere you have network coverage.
Featured Secureee Products
Secureee products are known for their reliability and high audio quality. They offer different models with specific features to satisfy various needs, from simpler solutions to more advanced options with greater range and functionality.
Digiscan Labs: Frequency Detectors from Ukraine
Digiscan Labs is a company based in Ukraine that specializes in high quality frequency detectors. This equipment is used in various security applications, including the detection of listening devices or unauthorized signals.
Importance of frequency detectors
Frequency detectors are essential tools in the world of electronic security. They allow you to identify and locate radio frequency signals that could be used for espionage or unauthorized surveillance activities.
What makes Digiscan Labs stand out
Digiscan Labs stands out for the high quality and precision of its frequency detectors. The products are designed to be intuitive and easy to use, making them an excellent choice for both security professionals and individuals concerned about their privacy.
Conclusion
Whether you're looking for TSCM equipment, GSM microphones or frequency detectors, these six manufacturers offer industry-leading solutions. Each of them specializes in a type of security technology, offering highly effective and reliable products.
Researching and understanding the options available is crucial to making informed decisions. With Sekotech and Selcom leading the way in TSCM and NLJD, Sun Mechatonics in contact microphones, and other manufacturers such as Acustek, Secureee and Digiscan Labs offering different solutions, you have a range of options to choose from. Be sure to select the manufacturer and product that best suits your specific needs.