At ESPIAMOS, we are committed to providing you with the best possible experience. We understand that sometimes you may change your mind about a purchase. Therefore, if you wish to exercise your right of withdrawal, we make it easy for you to do so.
According to the Royal Legislative Decree 1/2007, customers have the right to withdraw from the purchase within 14 calendar days without justification. The withdrawal period shall expire 14 calendar days from the day on which you or a third party indicated by you, other than the carrier, acquired material possession of the last of those goods.
To exercise the right of withdrawal, you must notify ESPIAMOS by an unequivocal statement (e.g. a letter sent by post or email) of your decision to withdraw from the contract. You can use the model withdrawal form below, but its use is not compulsory. In order to meet the withdrawal deadline, it is sufficient that the communication concerning your exercise of this right is sent before the expiry of the withdrawal period.
If you withdraw, we will refund all payments received, without undue delay and in any event not later than 14 calendar days from the date on which we receive the product. We will carry out such reimbursement using the same means of payment used by you for the initial transaction, unless you have expressly agreed otherwise; in any event, you will not incur any fees as a result of the reimbursement.
Finally, we remind you that, in accordance with article 103 of the Consumers and Users Act, those goods that may deteriorate or expire rapidly, sealed goods that are not suitable for return for reasons of health protection or hygiene and that have been unsealed after delivery, as well as goods that after delivery and taking into account their nature have been inseparably mixed with other goods, are exempt from the right of withdrawal.
Check our Returns Policy here:
https://www.espiamos.com/index.php?id_cms=15&controller=cms
Remember that you have a maximum of 14 calendar days from receipt of the product to notify and manage the return.
Request a return from the website
Log in with the user who has made the purchase at www.espiamos.com
Click on "Merchandise Returns"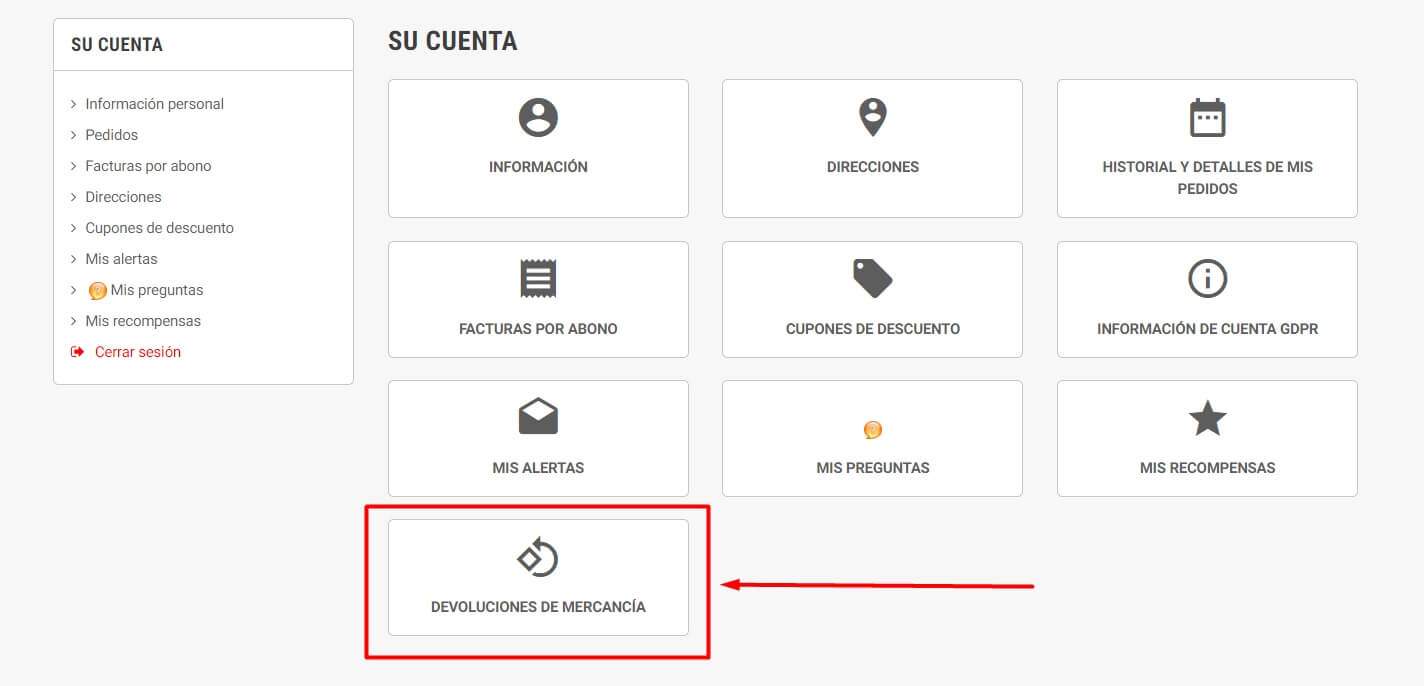 Select the order you want to return and click on "Return"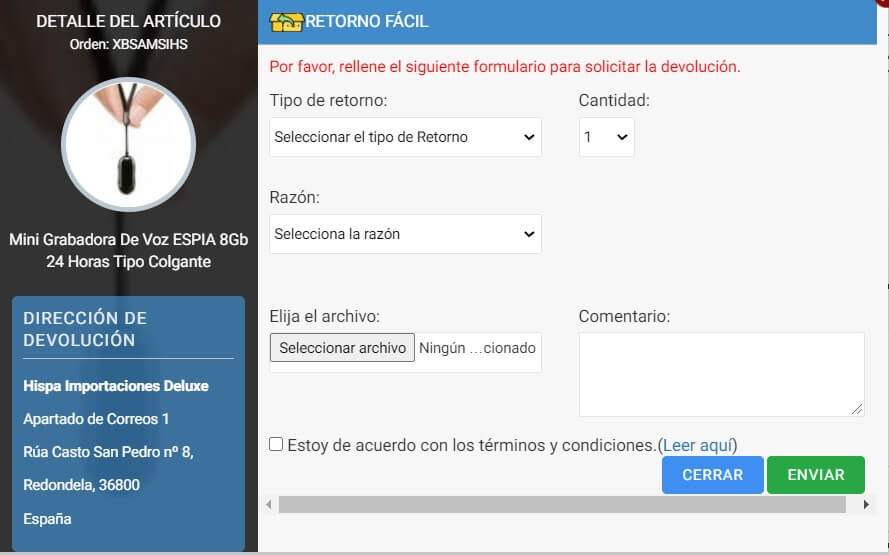 You will receive an email with instructions on how and where to send the product.
The shipping costs will always be borne by the customer in accordance with article 102 of the aforementioned Royal Decree, having to meet the direct costs of returning the product. ESPIAMOS.COM will not accept exchanges or returns that have not been previously communicated through the indicated channel.