Receiver Recorder Wireless Digital SM1106 HispaView
The SM1106 is a receiver digital wireless that allows you to view and record in real time and in a format QUAD all system cameras HispaView. Record by motion detection, scheduled or continuous mode.
.
Tax included
€82.64 Tax excl.
Immediate delivery

Receiver Recorder Wireless Digital SM1106 HispaView

HispaView is the new system of covert surveillance perfect for home or the office. Not only you will be able to see the images of 4 cameras at the same time, in real time, in a receiver portable but in addition you'll be able to see it from any part of the world from a PC or Smartphone as they are transformed into IP cameras.
can you imagine being able to see in real time the care of your baby, pet, or access to your safety deposit box from their Smartphone or Tablet? So with the system HispaView is possible!
How does HispaView?
The operation is very simple. Just perform these simple steps:
Place up to 4 cameras HispaView or 4 analog cameras normal connected to the Transmitter digital SM1105 (or a combination of both)
Synchronise the receiver with the simple push of a button.
And that's it. Now you'll have a portable CCTV in your home or office.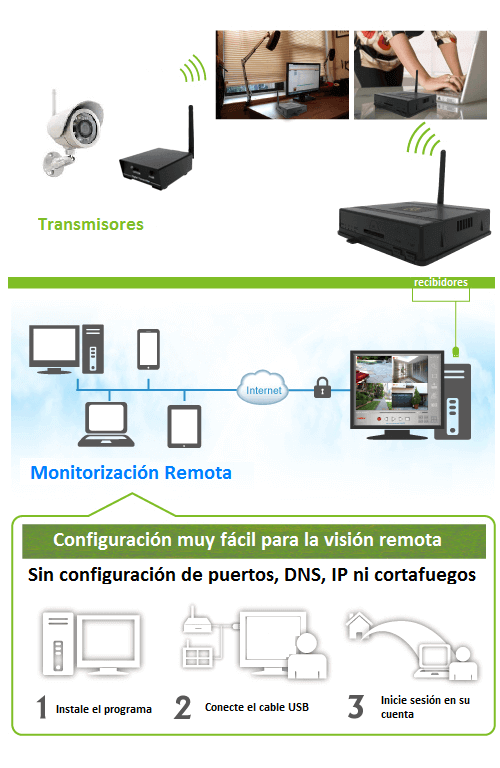 And if what you want is to visualize the images in real time, from any PC, Smartphone or Tablet you just have to synchronize with the receiver SM1104 or SM1106, connect it to your PC and download the app. All very very easy.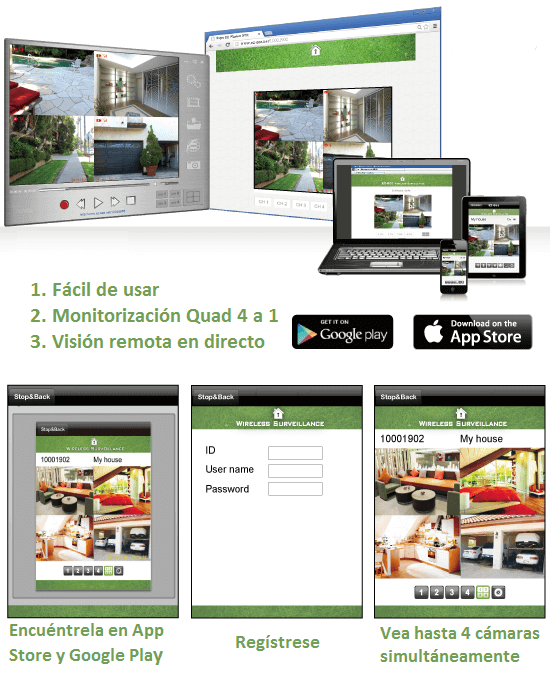 With HispaView offers several recording modes:
By motion detection
Pre-set time
Continuous Mode
Combined: By motion detection and at a preset time.
Example 1: If you want to hire the system for the surveillance of nannies we set up our cameras for the receiver HispaView start recording automatically on Monday , Wednesday and Friday from 09:00 to 13:00
Example 2: If we want to employ this system for the surveillance of the office set up HispaView to record by motion detection every day at the close of the same. From 20:00 to 08:00.
All the videos are stored in the own receiver on a MicroSD card. 32 Gb is equal to 93 hours of recording in format QUAD and in a continuous mode.
Main features:
Monitoring System Quad 4-to-1
Digital receiver wireless advanced that incorporates the technology of frequency hopping, interference-free, as other devices on 2.4 GHz
Memory: micro SD Card up to 32 Gb (up to 93 hours in continuous mode and QUAD)
Recording modes: scheduled, motion detection, continuous
Video Encrypted. Without interceptions
Range: up to 150 meters in a straight line (50 meters indoors)
RCA output for viewing on TV
USB connection for remote monitoring
Video: 640 x 480 at 30FPS
ATTENTION: This transmitter Digital is only compatible with the receivers with a system HispaView.

Data sheet
Frames Video Maximum

30 FPS

Records Video and Audio Together

IF

Video Resolution Maximum

640 x 480

Motion detection recording

IF

Autonomy Unlimited

Yes, Connected to the electrical grid