The work of a private detective is delicate and often critical. Having reliable tools on hand can make all the difference in an investigation. At ESPIAMOS, we understand these specific needs and, therefore, we want to offer you an exclusive offer on products from the renowned LawMate brand.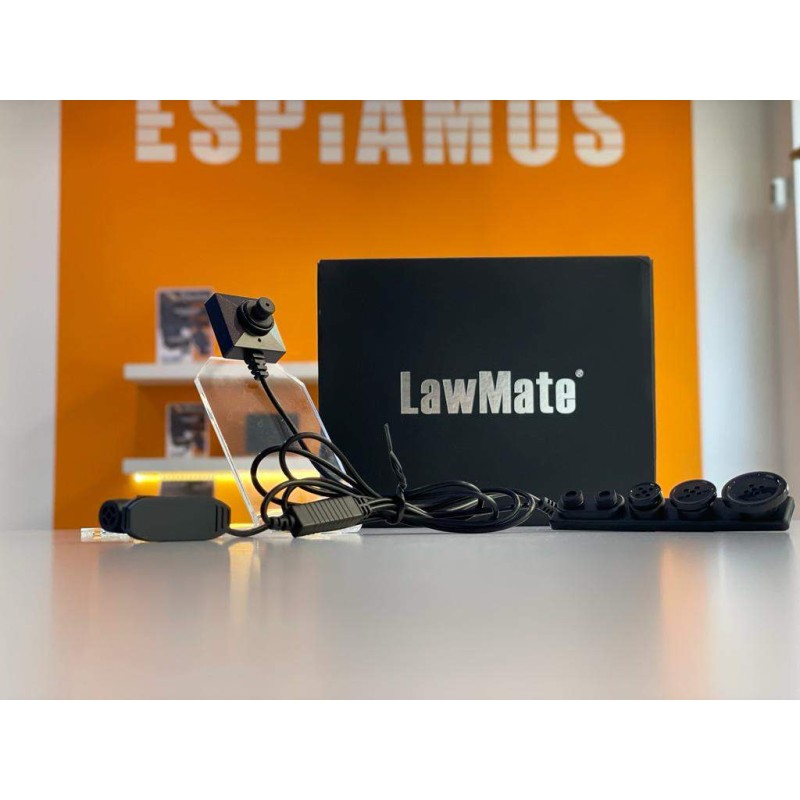 Why LawMate?
When it comes to research equipment, quality and reliability are essential. This is where LawMate stands out. Renowned for its durability and accuracy, the LawMate brand has been a leading choice for private investigation professionals for years. Their products are designed keeping in mind the rigorous demands of the sector, making them the ideal choice for those who cannot afford a failure in their equipment.
Legality and Conventional Guarantees
According to the article 3 of Royal Legislative Decree 1/2007, private detectives who use products in the exercise of their profession are outside the definition of "consumer". This means that by law you are only entitled to 6 months warranty. Although this legal framework might seem limiting, at ESPIAMOS we decided to go further.
The Exclusive ESPIAMOS Offer
3 Years Warranty
At ESPIAMOS, we believe that quality should go hand in hand with peace of mind. For this reason, we extend an exclusive offer of 3 years warranty on LawMate products for private detectives. This guarantee is not only a testament to the quality of the products we offer, but it is also our way of ensuring that you can always work with the best tool on the market.
Failure Procedure
We know that time is of the essence in your line of work. Therefore, if you experience any problem with your LawMate device, we promise to repair it in less than 10 days. But that is not all. If the equipment needs to be sent to the manufacturer for repair, we will provide you with a free temporary replacement device so you can continue your research without interruption. This way we guarantee that you will always have the necessary tools to do your job.
Conditions of the LawMate Guarantee for Private Detectives
While our 3-year extended warranty is a great advancement, it is crucial to understand its limitations. The warranty does not cover device batteries, broken screens, water damage or faulty cable connections. Our main focus is on ensuring that manufacturing defects are addressed, so you can continue your research work without worry.
Conclusion
At ESPIAMOS, our goal is to offer you not only high quality products, but also the peace of mind of knowing that your investment is protected. With our exclusive 3-year guarantee on LawMate products, we ensure that you will always have the necessary tools to be successful in your investigations. Don't miss this unique opportunity; Contact us for more details and to benefit from this incredible offer.
Frequently Asked Questions
Since when is this promotion available?
The promotion came into effect on September 24, 2023 and will apply to all purchases made from this date.
What are the criteria to take advantage of this offer?
To qualify for this exclusive promotion, you must be a private detective with valid credentials and purchase a LawMate device.
If the device does not fall under the warranty conditions, will I receive a replacement device?
Yes, if the device neIf it needs to be sent to the manufacturer for repair, you will be provided with a replacement device.
Does the extended warranty cover shipping costs?
No, the extended warranty does not include shipping costs. Changes are made in our physical store in Madrid. If you prefer to receive the product at your home, you will be charged a €5 shipping fee.
What happens if my device needs to be sent to the manufacturer and there are no units available in the store?
In the event that your device needs to be sent to the manufacturer and we do not have stock in the store, we will provide you with a temporary device of similar or superior characteristics to ensure that you can continue with your work .
Is this promotion applicable to all LawMate products?
Yes, this promotion applies to the entire range of LawMate products available in our store.
What documents do I need to prove that I am a private detective?
To access this exclusive offer, you will need to present a valid professional identification proving your status as a private detective.
Is the extended warranty transferable if I sell the product?
No, the extended warranty is personal and non-transferable. Only applies to the private detective who originally purchased the product.
Do I need to keep the purchase receipt to access the extended warranty?
Yes, it is essential to present the purchase invoice to benefit from the extended 3-year warranty.
What should I do if I find a manufacturing defect after purchase?
If you detect a manufacturing defect, we recommend that you contact us as soon as possible to begin the device repair or replacement process.