Introduction to TUYA Smart: The evolution of home security
Since its emergence into the market, TUYA smart technology has quickly become an unavoidable reference when we talk about security. But what makes this technology so special and why should you consider integrating it into your home? Join us on this informative tour and discover everything you need to know.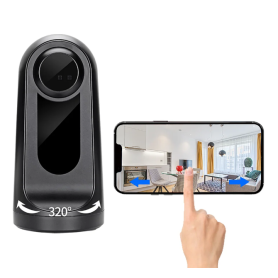 TUYA Smart INC
TUYA Smart INC is the company behind the revolutionary TUYA smart technology. Founded with the mission of connecting the world through technology, it has established itself as one of the main IoT platforms (Internet of Things) of the world. Its proposal focuses on providing intelligent and connected solutions for manufacturers, brands, OEMs and retailers.
With a focus on constant innovation, TUYA Smart INC has developed a series of products ranging from lighting control to advanced security systems, including solutions for the smart home and much more. The company strives to transform any traditional home appliance into a smart device, giving it connection and control capabilities never seen before.
What is TUYA smart?
TUYA smart is, in essence, the representation of a wide range of smart solutions created and offered by TUYA Smart INC. Its purpose is to make daily life more comfortable, efficient and safe through the integration of technology into everyday objects. From lights that can be controlled with your mobile phone to security systems that notify you in real time of any incident in your home, TUYA smart is redefining the way we interact with our environment.
One of the main attractions of TUYA smart is its ability to be integrated into various brands and products, allowing users to enjoy a smart and connected ecosystem regardless of the manufacturer of your devices. In other words, it is a universal solution that seeks to unify and simplify the user experience in the world of the smart home.
Main features of TUYA smart
technology
The features that define TUYA smart are not only innovative, but represent a significant leap in the field of security. From its advanced connectivity to its adaptive design, this system redefines what is possible in security and convenience for home and business. Below, we present its main attributes:
Advanced connectivity
TUYA smart technology allows seamless synchronization with multiple devices, offering centralized control. This means you can manage multiple smart devices from a single platform, making it easy to monitor and control your home or business.
Responsive layout
One of the great advantages of TUYA smart is its ability to easily integrate into any environment. Thanks to its discreet and functional design, it is perfect for both modern homes and more traditional establishments, adapting to the specific needs and aesthetics of each place.
Real-time notifications with Tuya Smart APP
With the YOURS camera, you will always be aware of what is happening in your home or business. Its real-time notification system, through the Tuya Smart APP, allows you to receive immediate alerts in the event of any eventuality. This way, you not only ensure a quick response to any situation, but you can also live with the peace of mind of knowing that you are protected.
Youya Smart for PC
Beyond its mobile application, TUYA smart offers a version adapted for PC, allowing users to manage and monitor their devices from the comfort of their computer. This option is ideal for those who prefer a larger screen or for companies that require centralized management from a fixed workstation.
Why do you need to buy a TUYA smart?
The decision to invest in security is always the right one. By opting for TUYA smart, you not only acquire a device, but also the peace of mind and certainty of having cutting-edge technology. But that is not all. The reasons to consider this technology in your home or business are numerous. Here we explain some additional reasons:
Integration with other systems
The versatility of TUYA smart is one of its great attractions. It is compatible with a wide range of devices, from security cameras to lighting systems. This makes it easy to integrate into existing security systems or create a completely new intelligent ecosystem.
Constant updates
The world of technology is advancing by leaps and bounds, and TUYA smart is not far behind. As a constantly evolving platform, it offers regular updates to ensure you always have the latest innovations in security and comfort. You won't have to worry about obsolescence or being left behind in terms of functionality.
Benefits of opting for smart security technologies
Technological advancement has led us to rethink the way we protect our spaces. It is no longer just about alarms and cameras, but rather integrated systems that adapt and learn from our habits and needs. TUYA smart technology is proof of this. But what are those benefits that stand out so much? Next, we will delve into them:
Considerations when choosing a TUYA smart
system
Security is a very important investment, so before committing your money, it is essential to analyze various factors. The goal is to ensure that you are choosing the most appropriate option that meets your needs and expectations. Here are some recommendations to keep in mind:
Identify your specific needs
Before purchasing a TUYA smart system, it is vital to identify what you really need. Are you looking for a solution for your home or business? How many devices do you plan to connect? These questions will help you determine the type and capacity of system you should consider.
Investigate compatibility
TUYA smart is known for its versatility, but it's always good to confirm if it's compatible with other devices or systems you already own. This will save you inconvenience and additional expenses in the future.
Check other users' opinions
An excellent way to know the efficiency and reliability of a product is through the experiences of other users. This will give you a clear idea of what to expect and what potential problems you might face.
Learn about support and warranty
After-sales service is crucial. Make sure that the brand or store where you purchase your TUYA smart system offers good customer service, and, as we spy, guarantees a three-year warranty and free shipping with delivery within 24 hours.< /p>
Trust and guarantee with espiamos.com
At espiamos.com, we understand the importance of security and trust. Therefore, when purchasing products on our platform, you will enjoy a three-year warranty. Additionally, to facilitate your shopping experience, we offer free shipping with delivery in just 24 hours. The safety and satisfaction of our customerss are our top priority!
TUYA Technology FAQ
Is the TUYA smart system easy to install?
Yes, its intuitive design facilitates quick and hassle-free installation. Most users can configure and start the system without professional help.
Is TUYA smart compatible with other security systems?
Absolutely. It is designed to integrate seamlessly with a variety of systems. Whether you have cameras from another brand or specific sensors, TUYA smart is flexible enough to work with them.
How do I receive notifications from my TUYA smart?
Notifications from your TUYA smart are received directly on your mobile device through the Tuya Smart APP. Additionally, if you have a centralized control panel, you will also receive real-time alerts and updates on any events or situations that require your attention.
How to configure TUYA smart?
Setting up TUYA smart is a simple and guided process. Once you download the Tuya Smart APP to your mobile device, you will follow a series of steps in the app to connect and configure your devices. The app will guide you step by step, allowing personalized configuration according to your needs. Additionally, you can always refer to product manuals or online support for additional help.
How does Tuya smart work?
Tuya smart works as an interconnected ecosystem of smart devices. These devices communicate with each other and with the central application through the Wi-Fi network or IoT (Internet of Things) connections. Once set up, you can control, monitor and receive updates from all your connected devices, whether lighting, security or appliances, from anywhere through your mobile device or centralized panel.
Which app is better? Yours or Smart life?
Both Tuya Smart APP and Smart Life are applications developed to control and manage smart devices. Both applications come from the TUYA ecosystem and share many similar functionalities. The choice between one and the other often comes down to personal preference or small differences in the interface and specific features. It is advisable to review both applications and decide which one best suits your needs and tastes.
How to install TUYA Smart camera?
Installing a TUYA Smart camera is a relatively simple process:
Unpack the camera and connect it to a power source.
Download and install the Tuya Smart APP on your mobile device.
Create an account or log in if you already have one.
Select "Add device" and choose the type of camera you are setting up.
Follow the on-screen instructions, which usually involve scanning a QR code and connecting the camera to your Wi-Fi network.
Once connected, you can customize the settings to your preferences.
TUYA Smart What is it?
TUYA Smart is a global IoT (Internet of Things) platform that allows manufacturers, brands, OEMs and retailers to develop smart solutions for different use scenarios. It provides a complete ecosystem of hardware and software, enabling the interconnection and operation of a wide variety of smart products, from lighting and home appliances to security and surveillance solutions. The main advantage of TUYA Smart is its ability to offer personalized and flexible solutions that adapt to the needs of end users, improving quality of life and offering an integrated smart home experience.