In the modern era, security is more crucial than ever and this is where the 6 Best Mini Spy Cameras of 2023 come into play. We live in a world where technology and connectivity offer us many conveniences, but they also expose us to unforeseen risks. Whether it's your home, your business, or even your car, the need for effective surveillance is undeniable. The mini spy cameras not only serve as a second pair of eyes, but also provide a sense of security and peace of mind.
Criteria to select the best Mini Spy Cameras of 2023
Select the 6 best mini spy cameras of 2023:
Video Quality
The quality of the recording is essential. We look for cameras that offer high definition to ensure details are captured clearly.
Ease of Use
An effective camera is one that is easy to install and use. If it requires a complicated manual or has an unintuitive interface, its usefulness decreases.
Additional Features
Capabilities such as motion detection, night vision and cyclic recording are aspects that add points to the camera's effectiveness.
Durability and Design
Robustness and compact design are equally crucial. A spy camera should be durable enough to withstand varying conditions and small enough to go unnoticed.
Ultra-compact Spy Camera: Mini WIFI IP Spy Camera
The Mini Spy Camera WIFI IP by LawMate stands out for its ultra-compact design that makes it easy to place in any corner of your home or workplace. Such a small device but with great capabilities is your perfect ally for security and surveillance.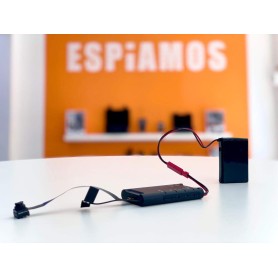 Main Features
These are some of the features that make the Mini WIFI IP Spy Camera a wise choice:
Real-time surveillance.
3 different resolutions to choose from.
Record by motion detection or continuously.
3MP camera.
Remote control model RF50.
LawMate 2200 mAh battery.
Overwrite function.
Storage via micro SD card up to 128Gb.
H.264 compression for better quality.
Ability to take videos and photographs.
Benefits
The Mini WIFI IP Spy Camera is not only an advanced technological device, but it is an investment in your peace of mind. Its real-time surveillance functions, along with high ca recording capabilityity, make it a powerful tool to ensure the safety of your space and your loved ones. If you are looking for a device to collect evidence, its high resolution and the option to record by motion detection make it an unbeatable tool for judicial processes or investigations.
Multifunctional Spy Camera: Your All-in-One for Surveillance
The Multifunctional Spy Camera is a device designed for those looking for more than just a spy camera. This model offers a variety of additional functionality that goes beyond standard surveillance, providing a complete security system in a single device.
Main Features
The defining features of the Multifunctional Spy Camera include:
Night vision: Ability to record in total darkness.
Two-way audio: Listen and respond through the camera.
Wi-Fi connection for real-time surveillance from your mobile.
Motion detection and instant notifications.
Cloud storage or SD card.
Compatibility with multiple devices.
Long lasting battery.
Integrated alarm and siren function.
Benefits
Versatility is what really makes the Multifunctional Spy Camera stand out. More than a camera, it is a complete security system. Its night vision and two-way audio allow you to be in two places at the same time, taking care of your home or business day and night. Additionally, its built-in alarm and siren function add an extra layer of security, allowing you to take immediate action in the event of an emergency. In short, this camera not only offers you peace of mind, but also complete control over your environment.
Spy Camera with Night Vision: Your Night Watcher
Security does not sleep and, therefore, the Spy Camera with Night Vision is your best ally when the sun sets. Perfect for spaces that require 24/7 surveillance, this spy camera offers you the peace of mind of knowing that you will always have a pair of eyes watching.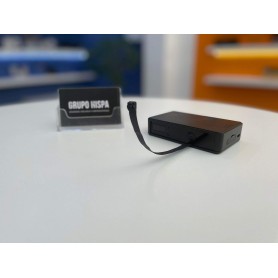 Main Features
What makes the Night Vision Spy Camera an exceptional product are its unique features:
High resolution in low light conditions.
Recording capability in complete darkness up to 10 meters.
Easy configuration and operation via mobile application.
Motion detection with instant alerts.
Support for loop recording and SD card storage.
Efficient video compression to store more hours of recording.
Benefits
The Spy Camera with Night Vision gives you the security of continuous surveillance, even in the most challenging lighting conditions. Its advanced night vision ensures that nothing goes unnoticed, while motion detection alerts allow you to act quickly in emergency situations. Furthermore, its easyRemote configuration and monitoring make this camera an ideal choice for both novice users and security professionals.
Spy Camera with Motion Detection: Always Alert
In a world where security is a constant concern, the Spy Camera with Motion Detection stands as one of the best options to keep an eye on your spaces of interest. This device is perfect for those looking for a camera that not only records, but also alerts them to any unusual activity.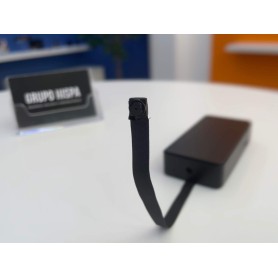 Main Features
The Spy Camera with Motion Detection comes loaded with features that make it stand out:
Highly sensitive motion sensor with customizable settings.
Real-time notifications sent to your smartphone.
Motion activated recording to maximize storage.
High quality image with 1080p resolution.
Wide viewing angle to cover more area.
Cloud or SD card storage option.
Simple setup through an intuitive app.
Benefits
The main advantage of the Spy Camera with Motion Detection is its ability to keep you informed and safe. Real-time alerts allow you to act immediately on any suspicious situation, giving you the opportunity to prevent problems before they occur. In addition, its easy and friendly configuration makes it accessible to everyone, regardless of the level of experience in security systems.
Car Spy Camera with Motion Sensor: Active Surveillance in Your Vehicle
For those looking for a complete vehicle security solution without sacrificing discretion, the Car Spy Camera with Motion Sensor is the perfect choice. This advanced device integrates invisibly into your car, providing an exceptional level of security while remaining hidden from view.
Main Features
The Car Spy Camera with Motion Sensor stands out for the following features:
2 Integrated Cameras: One for wide-angle recording and another for motion detection.
High Definition: Record videos in 1080p for clear and sharp captures.
120º Viewing Angle: Wide coverage to capture everything that happens around your vehicle.
Low Light Camera: Allows clear recordings even in low light conditions.
Motion Detection Recording: Activates automatically when motion is detected.
256Gb memory: Ample space to store recordings (memory not included).
Benefits
The benefits of opting for the Car Spy Camera with Motion Sensor are multiple:
Its motion detection capability ensures that only crucial moments are recorded, thus optimizing memory and battery usage.
The high quality of Full HD recording and the low-light camera make it an extremely versatile device, useful both day and night.
The inclusion of two integrated cameras offers a more complete level of surveillance.
The discreet design and the ability to record through glass dthe car ensure that the device remains invisible to anyone with bad intentions.
Mini Spy Camera: Small Size, Big Benefits
The Mini Spy Camera is your perfect ally in the search for a compact, discreet but highly effective security solution. Imagine having a silent witness, always vigilant and capable of detecting any anomaly or incident.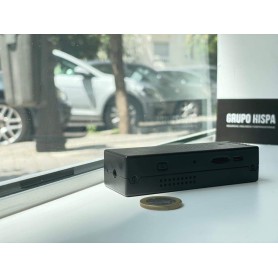 Main Features
The Mini Spy Camera stands out for:
2 integrated cameras: 1 wide angle + 1 motion detection
High Definition / 1080p
72º viewing angle
Low light camera
256Gb of memory (not included)
Recording by motion detection through glass
Cyclic recording
Built-in microphone
Up to 9 hours of autonomy in continuous mode / 1 month in motion detection mode
Connection to Power Bank or car cigarette lighter socket
Software configuration
Compact and lightweight design / easy to hide
Benefits
In addition to its notable discretion and high recording quality, the Mini Spy Camera offers the possibility of recording through glass, a rare feature in security cameras. Its low-light lens ensures outstanding recording quality even in low-light conditions, without draining the battery quickly. With up to 9 hours of autonomy in continuous mode and 1 month in motion detection mode, you can be sure that your safety and that of your property are in good hands.
Conclusion: Your Safety is Our Priority
At the end of the day, what really matters is your safety and well-being. In a world full of uncertainties, the smart choice is to invest in your peace of mind. And what better way to do it than with quality products that offer you the peace and confidence you need.
Ready to Take the Next Step in Your Security?
Purchase your mini spy camera at espiamos.com and enjoy the peace of mind you deserve. Not only are you purchasing a high-quality security device, you are also investing in your peace of mind.
Keep in mind that ESPIAMOS.COM offers 3 years warranty and makes free shipping with delivery in 24 hours.