Choosing a good spy pen has never been so simple. As technology advances, so do spying tools, allowing users to stealthily capture high-quality audio. In this context, we present a detailed comparison of the most outstanding spy pens on the market in 2024, ideal for professionals, students and anyone who requires discreet recordings.
1. SPY PEN 8GB 18H AUTONOMY
This spy pen is not just a writing tool. At first glance, it may look like an ordinary ballpoint pen, but it houses advanced technology for audio recording inside. It is a powerful and unobtrusive tool meticulously designed to meet your recording needs in various situations without raising suspicion.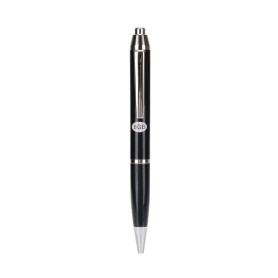 Main features
Elegant and discreet design: Its sophisticated appearance makes it a perfect accessory for any environment, whether business or educational.
Actual function as a pen: In addition to recording, it is fully functional for writing.
Unmatched audio quality: Thanks to its excellent audio quality, it guarantees clarity in recordings, avoiding noise and distortions.
18 hours of continuous recording: Ideal for long days, without the need to recharge or transfer data.
8GB storage capacity: Stores up to 96 hours of conversations, ideal for weeks of recording.
Low sensitivity microphone: Ensures the capture of conversations even in low volume environments.
USB memory function: Makes it easy to transfer recordings to any device without the need for additional cables.
Recommended use
This spy pen is ideal for those looking to capture audio in situations where discretion is paramount. Whether recording conferences, work meetings, interviews, classes or any important event, its design and functionality ensure that you will go unnoticed while making high-quality recordings. Its prolonged autonomy makes it the perfect option for long days.
2. SPY PEN VOICE RECORDER 17 HOURS AUTONOMY 256GB
With an astonishing memory capacity and autonomy designed to adapt to the most rigorous demands, this recorder spy pen redefines what is possible in the world of discreet spying. Its design is the perfect fusion of functionality and elegance, and embodies excellence in hidden voice recording. An essential tool that combines high capacity and performance in an unbeatable package.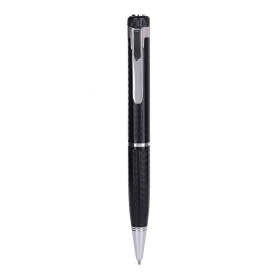 Main features
Discretion and design: At first glance, it looks like an ordinary pen, making it ideal for situations where discretion is key.
Double Function: It is not only a powerful recording tool, but also serves as a functional pen for writing.
Premium Audio Quality: Ensures clear and crisp recordings, even in noisy environments, thanks to its high-quality microphone.
Impressive autonomy: It offers up to 17 hours of continuous recording, which makes it a perfect ally for long days.
Expansive memory: With an internal capacity that can be expanded up to 256GB (card not included), it is capable of storing up to 3000 hours of conversations.
WAV recording format: This universal format ensures that recordings can be played on any device without proproblems.
Recommended use
This spy pen is the preferred choice for professionals who require long hours of recording or listening in situations where details cannot be lost. Whether it's journalists interviewing, detectives conducting investigations, or students recording marathon classes, its ample storage capacity and autonomy ensure you'll always be ready to capture every crucial moment.
3. 8GB SPY PEN: 512KBPS RECORDING, +20H AUTONOMY
This spy recorder pen represents the evolution of discrete recording technology, combining the best of modernity with unbeatable value for money. It offers advanced features in a subtle and elegant design, making it an excellent option for those who do not want to sacrifice quality for price.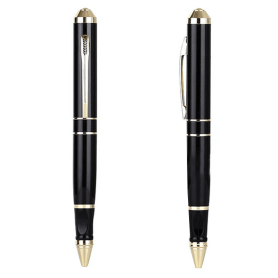 Main features
Stylish design: With modern lines and a sophisticated finish, this pen adapts to any context without attracting attention.
Recording quality: It stands out for its high recording resolution of 512 kbps, which ensures clear and detailed audio.
Long autonomy: With a battery life of more than 20 hours, it is ready to face long days of recording.
Storage capacity: Equipped with 8GB of memory, it is capable of storing up to 96 hours of audio.
High sensitivity microphone: Its sensitive and precise microphone captures sounds of various intensities and nuances, ensuring that nothing is lost.
Recommended use
This spy pen is the perfect choice for those seeking a balance between quality and price. Its long autonomy and high recording quality make it ideal for students, professionals and anyone who needs a discreet and reliable recording tool, but without a high cost. Whether at conferences, meetings or classes, it's the perfect companion to ensure every detail is accurately captured.
4. HD RECORDING PEN 8GB MEMORY 9H AUTONOMY
The HD RECORDER PEN 8GB MEMORY 9H AUTONOMY is the epitome of innovation and functionality. Integrating a sophisticated design with cutting-edge recording technology, this spy pen is an indispensable tool for those looking for a discreet yet powerful solution.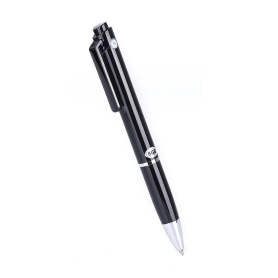 Main features
HD recording: Guarantees clear and sharp audio thanks to its high-definition recording quality.
Autonomy: With up to 9 hours of continuous recording, it is designed for short to medium-duration work or study sessions.
Storage: Equipped with 8GB of internal memory, it is capable of holding up to 96 hours of conversations.
Discretion and design: Its elegant and discreet design allows it to go unnoticed, while fulfilling its main function of recording audio with precision.
USB function: It is not only a pen and recorder, but also can work as a removable USB flash drive, making it easy to transfer audios.
Recommended use
This spy pen is the perfect solution for professionals, students and any individual who requires a short duration recording tool. Its autonomy of 9 hours makes it ideal for work or study days that do not exceed this time. Whether recording lectures, work meetings or academic lessons, this pen ensures that not a single detail is missed.
5. 2K SUPER HIGH DEFINION SPY PENRESOLUTION 1296P
The pen with 2k 1296p spy camerais a revolution in the world of spy recording devices. Fusing elegant design with the most advanced recording technology, it offers an unparalleled experience for those unwilling to compromise on quality.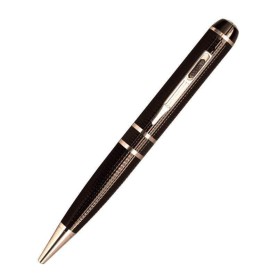 Main features
High Definition Recording: With an impressive resolution of 2K (2304 x 1296), this spy pen guarantees detailed and clear recordings.
Motion Detection: An essential feature to optimize storage and ensure recordings at critical moments.
Premium Design: Style, elegance and functionality converge in a single device.
H.264 video compression: Ensures the quality of recordings while optimizing storage space.
Easy transfer: Its USB connector makes it easy to download data to PC/MAC.
Versatile configuration: The included software allows you to customize the experience according to the user's needs.
Recommended use
This spy pen is the perfect companion for professionals in areas such as journalism, security, and for amateurs passionate about cutting-edge technology. Its high resolution and motion detection make it an indispensable tool for those looking to capture every detail with impeccable clarity. From lectures to field research, this pen is designed for those who simply want the best.
Pros and cons of spy pens
Pros:
Discretion: One of the biggest plus points of spy pens is their ability to go unnoticed. Their ordinary design makes them pass as normal pens, making them easy to use in any environment without raising suspicion.
Multifunctionality: In addition to their recording function, these devices generally function as real pens, adding an extra layer of camouflage.
Recording quality: Many of these pens offer high definition recordings, ensuring clarity in the captured audio and/or video.
Autonomy: The battery life is a highlight, allowing continuous recordings for several hours.
Storage capacity: With options ranging from 8GB to 256GB, there is a wide range of possibilities to store hours of recordings.
Cons:
Technical limitations: Although many offer high quality, some may have lower sensitivity microphones or record in environments with a lot of background noise.
Price: High technology and quality can result in a high cost for some models, especially high-end ones.
Operation: Familiarity with the instructions and use of the device is essential to ensure successful recording. They are not as intuitive as other recording devices.
Legality: It is essential to be aware of local secret recording laws, as in some places it may be illegal to record someone without their consent.
What is the best spy pen of 2024?
After analyzing various models and taking into account the characteristics, benefits and quality/price ratio, our recommendation is the SPY PEN 8GB 18H AUTONOMY.
This device stands out for several reasons:
Autonomy: With up to 18 hours of continuous recording, it guarantees ample durability to record long-lasting audios.
Audio quality: It offers excellent quality in your recordings, ensuring clarity and sharpness in each captured audio.
Storage capacity: The 8GB available gives you enough space to store up to 96 hours of conversations.
Elegant and discreet design: Its appearance makes it pass as a common pen, which guarantees discretion in any situation.
Functionality: In addition to being an efficient recorder, it also works as a real pen and as a removable USB stick.
In summary, if you are looking for a spy pen that offers a perfect balance between quality and price, the SPY PEN 8GB 18H AUTONOMY is, without a doubt, your best option for 2024.
Why buy from ESPIAMOS?
The spy and security products industry is vast and competitive, so finding a reputable supplier can be challenging. However, there are clear advantages to choosing ESPIAMOS for your needs. Here, we give you some solid and convincing reasons to trust our services:
Best price guaranteed
The economy is an important consideration for everyone. At ESPIAMOS we understand this and, therefore, we strive to offer you the most competitive prices on the market. It's not just a bold statement - we truly believe in providing value for your money. If you're looking for the perfect combination of quality and affordability, you need look no further.
Exclusive 3-year warranty
Investing in technology and security devices is no small decision. You want to ensure that your investment is protected. At ESPIAMOS, we don't just sell products; we sell peace of mind With our exclusive three-year warranty, you can rest assured that you are purchasing products designed to last. If any problem arises, we are here to help you.
Experience and reliability
In a world where companies come and go, ESPIAMOS has stood the test of time. Our years of experience in the marketplace have allowed us to refine our products and services to offer only the best to our customers. And it's not just us saying this – hundreds of testimonials and positive reviews from satisfied customers speak to the level of reliability and professionalism we offer.
In conclusion, choosing ESPIAMOS means opting for quality, reliability and an unwavering commitment to customer satisfaction. When you think about espionage and security solutions, think WE SPY.
Frequently Asked Questions
1. Do spy pens really write like a normal pen?
Absolutely. One of the biggest appeals of spy pens is their ability to function like regular pens. This allows them to go unnoticed and be used in everyday situations without raising suspicion. Most of these devices have real ink that can be used to write on paper, which improves their concealment. The idea is that no one suspects that, in addition to being a writing utensil, it is also a recording device.
2. How long does the battery of a spy pen last?
The battery life of a spy pen may vary depending on the model and specific features of the device. For example, some spy pens can last up to 18 hours on a single charge, while other models offer around 9 hours of continuous recording. It's important to check product specifications and user reviews to get a clear idea of the actual battery life of the device you're considering.
3. How do you charge the battery of a spy pen?
Most spy pens are charged using a USB cable that is included with the product. Simply connect the pen to a power source, such as a computer or USB power adapter, to begin the charging process. Some models have LED indicators that will inform you about the charging status. The process is generally simple and similar to charging other small electronic devices.
4. Is any special software required to access the recordings?
In most cases, no special software is required to access recordings from a spy pen. These devices typically function as mass storage drives when connected to a computer, similar to uUSB memory. Therefore, you can access and play the files with standard media players. However, some advanced models may offer additional software for special functions, such as editing or audio enhancements.
5. Are spy pens detectable in security checks?
While spy pens are designed to be discreet, they may still be detected at advanced security checks, especially if security personnel are using electronic detection equipment or are specially trained to identify electronic objects hidden. However, at a routine security check, such as at an airport, they are likely to go unnoticed since they look and function like regular pens.
6. How many hours of recording can a spy pen store?
The storage capacity of a spy pen varies depending on the model and the memory capacity it has. Some pens can store up to 96 hours of audio, while others, especially those with expandable memory, can store thousands of hours of recordings. It is essential to review the device's specifications to determine its storage capacity and consider the quality and resolution of the recordings, since higher quality files generally take up more space.
7. Can the memory of pens with cameras be expanded?
Depending on the spy pen model, some allow memory expansion using microSD cards or similar, while others have a fixed internal memory that cannot be expanded. It is essential to review the product specifications before purchasing to ensure it meets your storage needs.
8. Are spy pens legal?
The legality of spy pens varies by country and jurisdiction. In many places, it is legal to own and use a spy pen for personal recordings, but recording someone without their consent can be illegal, especially if it involves recordings in private places or private conversations. It is always advisable to check local laws and obtain appropriate consent before making any recording.
9. What types of formats do you use for recordings?
Spy pens typically record in widely used standard formats. For audio recordings, common formats are MP3 and WAV. In the case of pens with cameras, the most common video formats are AVI, MP4 and MOV. These formats are compatible with most media players and devices, making them easy to view and play.
10. What is the maximum effective recording distance of a spy pen?
The maximum effective recording distance usually varies depending on the model and specifications of the spy pen. On average, many spy pens can capture clear audio up to distances of 5 to 10 meters. However, for the best quality, it is advisable to be as close to the sound source as possible.
11. Do spy pens record in low light conditions?
Some spy pens with video recording capabilities come equipped with night vision technology or low-light sensors, allowing them to record in low-light conditions. However, not all pens have this feature, so it is essential to review the product specifications if recording in environments with limited lighting is required.
12. How do I turn the recording function on and off?
Most spy pens are designed to be discreet and easy to use. Commonly, turning recording on and off is done by pressing a discrete button or rotating a part of the pen. Some more advanced models may offer motion detection activation or remote control. It is advisable to consult the product manual or product description for specific operating instructions.
13. Can the pen be used while recording?
In the mayOrdinarily, yes, you can use the spy pen to write while recording. They are designed to be multifunctional and discreet, allowing users to write notes or make annotations while simultaneously recording audio or video. However, it is always advisable to check the specifications and features of the specific model to ensure its capabilities.
14. What accessories do these pens usually include?
Spy pens usually come with various accessories to maximize their usefulness and ease of use. Some of the most common accessories include USB cables for charging and data transfer, headphones for listening to recordings directly from the pen, adapters for different types of plugs, and protective cases or covers. Additionally, some models may include specialized software or additional memory cards. It is important to check the contents of the package when purchasing to know what is included.