Use to detect a spy camera has increased due to the increase in its illegal installation in the South Korean public services.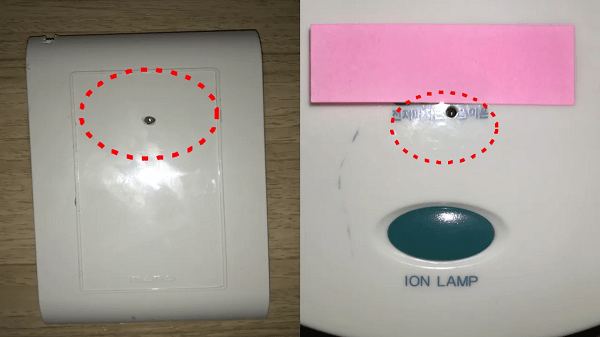 With the growth of threats to our privacy and that of our loved ones, the field of counterintelligence has had to adapt and advance, especially in the identification of hidden devices. Currently, there are a variety of spy camera detectors on the market that allow you to easily discover the location of these tiny devices, protecting us from possible spying attempts. In this article, we present different models and their effectiveness, and we offer you tips to find the best value for money when choosing your hidden camera and microphone detectors.
A detector is nothing more than a device that tells you the presence of a surveillance object, as well as its location effectively. It is the easiest and most accurate way to check if you are being watched. There are different models of spy camera detectors. Next, we will detail the characteristics of each hidden camera and microphone detector available on the market so that you are well informed.
What is a detector of spy cameras?
Spy camera detectors are advanced devices designed to identify hidden cameras, no matter where they are located (such as on ties, watches, glasses, lamps, and more), or whether they are wireless. They can detect them even if they are turned off.
Generally, these devices work by using a beam of infrared light that reflects off the lens of the hidden camera. When a camera is detected, a bright red dot is displayed on the lens.
In this video you will see how easy it is to detect a spy camera.
There are different models of spy camera detectors, which can be as small and imperceptible as the cameras themselves; likewise, the intensity of the infrared beam may vary according to the model.
What exactly do lens detectors detects?
A spy camera detector examines the environment in search of devices that may violate your privacy before third parties. These devices are effective at uncovering spy camera lenses, regardless of whether they are active or not, that have been placed to gather information or monitor your actions.
The method? Commonly, these detectors operate with infrared light that reflects off the camera lens, showing its location by a marked red dot.
For example, if you feel that you are being watched in your car, you can use this device to inspect it and determine the presence of a spy camera or any other intrusive device.
With this knowledge of how these detectors operate, we'll present some variants below to broaden your understanding of the subject and help you choose the right one for your specific situation.
Detectors of surveillance cameras
What you need to know about the installation of hidden surveillance cameras in a house, is that they normally violate data protection. It is natural to want to protect a home and the goods it houses. However Depending on the purpose pursued, this protection may or may not be legal.
Every surveillance camera has a lens, necessary to capture the image it receives. The surveillance camera detector is responsible for detecting that lens to determine its location.
Wireless camera detectors
The wireless camera detector wireless cameras, unlike the previous one, it is a device specially designed to know if there are mini cameras watching you. Some can also be used as frequency detectors, thus being a device capable of adapting to all kinds of needs.
To use it, you have to turn it on and make small sweeps. You may have more than one antenna, each one aims to capture different frequency ranges and detect the spectrum in its built-in camera.
It is able to detect cameras, GSM devices, GPS, walkie talkies and even wireless microphones or wiretaps. By using it, you can be calm at home knowing that there is nothing to worry about or you will detect in a short time if you are being watched and/or listened to.
A hidden device detector also known as a nonlinear detector, as its name suggests, is specialized in finding devices that have been installed by third parties. Its objective is to detect the hidden device, whether or not it is transmitting as: hidden GPS locators in a car, microphones, cameras, etc.
They are very easy to use and let you know in a few minutes if your privacy is at risk or not. It uses all kinds of signals, whether digital or analog.
It is not necessary to be a spy to be able to use it, since even those who do not have much idea about this type of device or who are not experienced with its use, can get the most out of this technology.
Why buy a spy camera detector?
The benefits of acquiring a device capable of detecting any spy device, be it a mini spy camera or a microphone, are innumerable. Next, we will tell you its most relevant advantages:
They have state-of-the-art technology capable of detecting even the most modern devices on the market. Just as technology in terms of espionage advances, it is also being surpassed by counter-espionage technologies.
Their imperceptible designs make these devices a novelty. Nowadays there are spy camera detectors that fit in the palm of your hand, making them go unnoticed when you take them with you. You can determine the location of the spy cameras very easily.
There are multifunctional detectors. With a single device you can detect various types of hidden objects, such as spy microphone and GPS locators, among others.
What are the best spy camera detectors?
Long-range spy camera detector long range
The Splas-2P is an instrument similar to state-of-the-art binoculars; It is used by large companies and national security forces.
It is a device specialized in the location and visualization of sniper scopes and night vision devices, among others. Thanks to its "cat-eye" lenses, it can work under any environmental condition: day or night, in the presence of fog, in open or closed places. Its operating principle is the phenomenon of retroreflection. It has the ability to capture the emitted signal when it is reflected on spying optical objects, such as camera lenses.
The main features of the Splas-2P include its range of vision or detection of up to 1,000 meters ; binocular glasses with protection, which covers the wearer's face; signal output to standard video; adjustment of the power of the laser radiation level; and the ability to work without the need to recharge the battery for a period of no less than five hours.
Camera detector spies with image recording
The hidden camera detector ANLAS locate any spy camera hidden inside everyday objects. A 5" LCD screen can be attached to reproduce or record what the user views. It is ideal for work as a team
Use electro-optical surveillance systems through different types of glass and mirror. This device of Russian technology is made with the best technology. If what you are looking for is a quality hidden camera detector, this could be your device