It's easy! Find out how to configure any recorder Soroka of the brand's TS Market in just a few seconds. ¡Find out here!
What a voice recorder Soroka TS Market?
A recorder Soroka is a mini voice recorder spy - brand TS Market manufactured in Russia. They are characterized by a size super small. In fact, the recorder A77 has the World Record on the voice recorder the world's smallest
You could say that the voice recorders SOROKA are among the best voice recorders spy in the world. Among many of its features we can highlight: high autonomy, configuration by software, recordings with a digital signature, password protection, and, above all, high quality both in their components and in their recordings.
There are currently two different series that are configured differently: Soroka and Edic Mini. In this post we will show you how to configure a tape recorder edic mini
How do I set up a tape recorder Soroka?
The easiest way is to do it online in the following link
Steps to perform
Select the model of the recorder Soroka
Activate or deactivate the parameters that we wish to

Voice activation
To establish a sound that differs between the files recorded
Auto gain Control (recommended)
Maximum size of recording
Access password
Frequency
Encoding
Registration
Setting the date and time
Recordings to date and scheduled time

Download the file in the "Download Configurarion file" and the copy in the recorder
You can also configure your recorder SOROKA from the supplied CD by following the steps in this video tutorial
Already, so easy ;-)
Recommended Settings
If you're still more familiar, we recommend you to configure the recorder SOROKA with these parameters.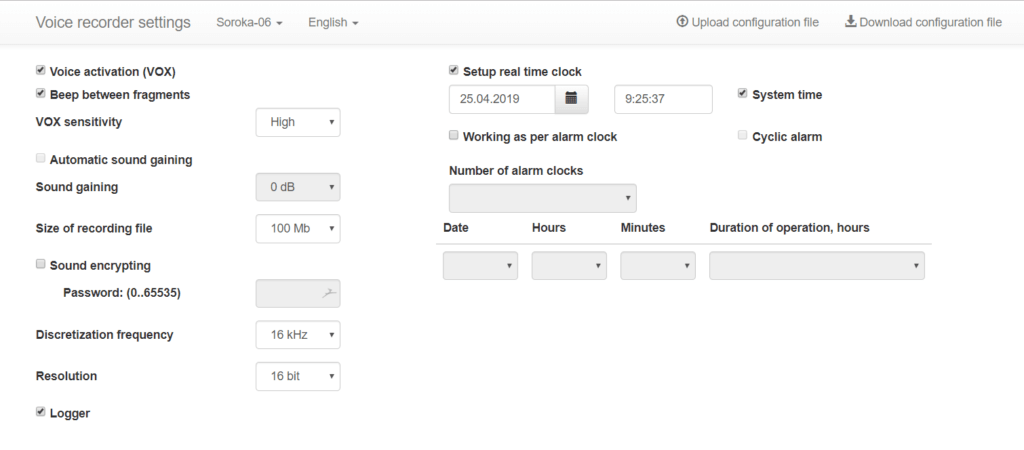 Where to buy a recorder Soroka?
The voice recorders of the brand TS Market are only available in the best shops of products of spy. Look out, it is the exclusive distributor of the brand TS Market in countries such as Spain, Colombia or Portugal.