Bottle Pepsi spy camera hidden Wifi Full HD 1080p
Real-time monitoring: you Can see the images in real-time, access to the recorded files and make settings remotely from any Android Smartphone / IOS and from anywhere in the world
3 different resolutions to choose: video Resolution: 1920 * 1080p at 30 FPS or 1280 * 720 at 30FPS and WVGA at 30FPS
Recorded by detection of motion or continuously
Camera of 3MP with a heat sink
Function on-write
Storage through micro SD card of 128Gb
Compression H. 264 which increases the quality
Videos and photos
Depending on write: yes
Very easy to use with the remote control
Tax included
Immediate delivery

Bottle Pepsi spy camera hidden Wifi Full HD 1080p

Attention: This is a custom product. If you wish to expand the autonomy, memory, or simply that the place in another place you just have to contact us.

Camouflage perfect. With this bottle of Pepsi, you'll be able to hear and see the images in real time from your computer or mobile phone (Android or IOS). Ideal for monitoring children, elderly people, offices and offices.
It works as a microphone spy! Also, you can listen live everything that happens around the device.
Main features of the hidden Camera in the Bottle Pepsi Spy :
Real-time monitoring: you Can see the images in real-time, access to the recorded files and make settings remotely from any Android Smartphone / IOS and from anywhere in the world
3 different resolutions to choose: video Resolution: 1920 * 1080p at 30 FPS or 1280 * 720 at 30FPS and WVGA at 30FPS
Recorded by detection of motion or continuously
Camera of 3MP with a heat sink
Function on-write
Storage through micro SD card of 128Gb
Compression H. 264 which increases the quality
Videos and photos
Depending on write: yes
Very easy to use with the remote control
You'll be able to see the image in real-time from anywhere in the world, without limit of distance. This functionality is ideal for team work or for those professionals who want to transmit images in real time to your client. It can be viewed in any Tablet or SmartPhone, whether Android or IOS.
How does the bottle with spy camera?
The operation is very simple following the instruction manual that we give you, exclusively, in Spanish. We have only to turn on the bottle spy with the remote to download the app for Android or iPhone, and connect to the WIFI network of the device. We will now be able to view the images in real-time point-to-point (P2P).
Example of use for the monitoring in real-time without the limit of distance:
We synchronize the bottle spy laptop with our router home or a laptop computer according to the manual of instructions in Spanish and give the bottle to the desired location. In this way, the customer or partner work will be able to visualize the images in real time on your mobile phone regardless of where you are. It is ideal for team work or for customization of equipment.
Its vibration system will allow you to know at any time if recording videos or taking pictures. This option can also be enable or disable easily.
This device allows you to choose between different resolutions (including Full HD). You can make videos on:
Full HD 1920 x 1080 at 30FPS
HD 1280 x 720 at 30FPS
VGA 640 x 480 at 30FPS
All videos are stored on a card micro SD of 128Gb.
All the configurations / re-configurations, and file downloads are done via WIFI through a SmartPhone already that this DVR has no display. From here you will be able to:
Download the recorded files to your mobile phone
Enable / Disable date and time stamp on the recordings
Set the time
Enable / Disable the microphone built-in
Adjust the image resolution: 1080p / 720p / WVGA
Enable / Disable the visilibildad of the WIFI network
To change the password
Format the micro SD card
See the space used / free
To update the firmware
Load the default configuration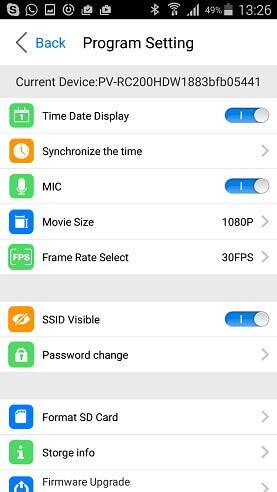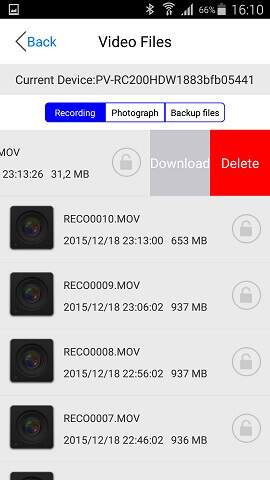 In mode a detection of movement can be adjusted:
The sensitivity of the detection: High / Medium / Low
Time of recording: 1 min / 3 min / 5 min
Activate / Deactivate the recording cyclically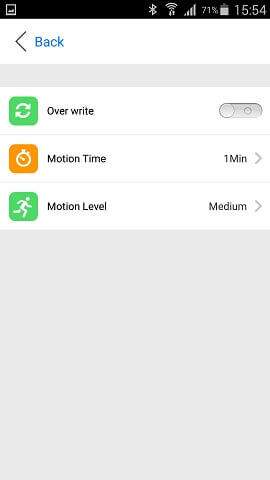 Here you'll be able to download the apps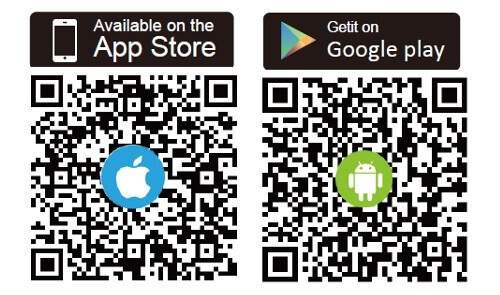 Link To Google Play:
Link App Store:
Spy camera High-Definition
The camera of 3Mp hidden in the front will give you a quality, until now, unprecedented. Record videos and take photos with a clarity and sharpness amazing. Doesn't miss any detail: lettering, faces or any information that passes through your lens.

The package contains:
1 x Bottle spy camera hidden
1 x remote Control
1 x high capacity Battery
1 x memory card of 128Gb
1 X Manual of instructions
Data sheet
Frames Video Maximum

25 FPS

Records Video and Audio Together

IF

Video Resolution Maximum

1920 x 1080

Video Format

MOV

Angle of view

Sixty sixth

Format Photography

JPEG

Motion detection recording

IF

Photo Resolution

2304 x 1536

Memory type

128 GB Micro SD Card

Capacity Battery

Polymer battery of 3.7 V and 2200mAh

Camera

3MP 1/3" CMOS Progressive

Minimum illumination

3.3 lux

CMOS Pixels

3MP 1/3" CMOS Progressive

Approximate charging time

240min (800mA)

Consumption

450 mAh / 500 mAh / 8mAh (WIFI OFF / WIFI ON / IDLE)

Lens

4 mm

Rechargeable Battery

IF

Memory up to

128 GB Micro SD Card

Date and time stamp

IF

Storage capacity

Approx. 35 hours in Full HD 1080P

Continuous Recording

IF

Image in real-time

IF

WIFI

IF